The Best Tackle Boxes
Tackle boxes are an essential tool for any fishing enthusiast, providing an organized and efficient way to store and transport fishing equipment on a fishing trip. Over the years, tackle boxes have evolved significantly, with more sophisticated designs and compartments for effective organization systems. If you're in the market for a new tackle box, consider the top 10 best tackle boxes available below.
When selecting a tackle box, it's important to consider factors such as space and portability. With so many different types of tackle boxes available, it's crucial to choose one that fits your specific needs. A tackle box that is too small can limit your storage options, while one that is too large may be cumbersome to transport. By selecting a tackle box that fits your needs, you can ensure that you have all the equipment you need on hand and easily accessible when you're out on the water.
Best Rod Holders for Aluminum Boat
Top 10 Best Tackle Boxes for Boat
Plano 7771 Guide Series Tackle Box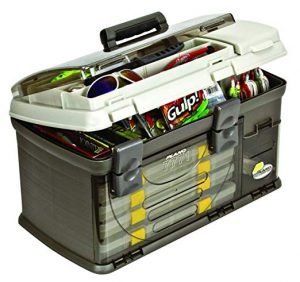 The Plano 7771 Guide Series Tackle Box comes with four utility boxes, spacious storage, top access and three high access removable spinnerbait racks. It is a large tackle box to store all your equipment and is not heavy to carry. The box is made from durable plastic and can take years of use.
Pros
Three top-access removable spinnerbait racks
Large storage space
Has a comfort-form molded handle
Cons
Latches too close to each other
Sometimes the box may get shipped with some storage trays missing
If subjected to heavy use, durability may be compromised
Ready2Fish Fishing Tackle Box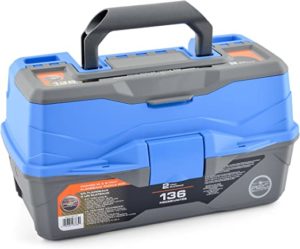 This tackle box is best suited for beginner fisherman. It is a small tackle box and is perfect for someone learning the ropes about fishing. Though it is a small box, it will hold everything you need to get started. The Ready 2 Fishline has been present for over 20 years, and they are a well-respected brand.
Pros
Trays are divided into compartments for better organization
Includes a fishing guide for beginners
Waterproof
Cons
The lid does not line up with the box sometimes
Space is limited due to its size
Piscifun Bag Backpack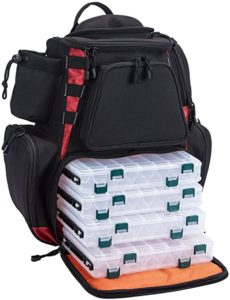 This is a small and easy to carry, this backpack style tackle bag but serves the same purposes as an ordinary tackle box. If you are looking for good quality and durable tackle box, this one is for you. This is a tackle box that will serve you for years.
Pros
Has Padded straps for the ultimate comfort
Waterproof
Messenger bag shape makes it more comfortable to carry for long periods
Cons
This bag is small thus limited space options
Only suited for fishing that needs a specific tackle
Berkley Tackle Bag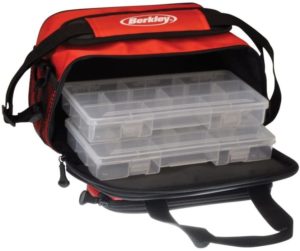 The Berkley tackle bag is a small and affordable tackle compartment that is big enough to fit all your tackle needed for fishing. It is perfect for beginners because of its size and efficiency. It has ample amounts of room to provide the ultimate form of organization.
Pros
Good quality
Compact and easy to carry
Great storage
Cons
Not waterproof
Not as durable because of the materials used
Only suited for fishing that needs a specific tackle
Wild River 3606 Multi-Tackle Large Backpack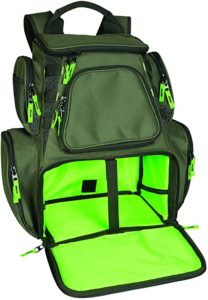 This tackle box gives you lots of storage and the chance to organize your tackle and bait as you please. It can hold up to six trays with ease. It is essential to have enough room for all your fishing supplies that is easy to carry, and this tackle box does just that.
Pros
Padded, adjustable shoulder strap
Includes a sternum strap for added comfort and stability
Extra-large for plenty of storage
Cons
Plastic zippers that may not last as long as the bag
Not waterproof
Not as durable as plastic
Plano 1354-02 -by Rack System 3500 Size Tackle Box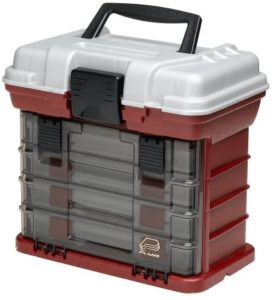 The Tackle Box is a waterproof construction that protects your tackle. It is quite a large tackle bag for organizing a large amount of gear. This is the best tackle box because of its space and plenty of compartments for storing all of your fishing gear and tackles together and organized.
Pros
Storage space is large
Easily Portable
Ease of access to tackle
Cons
Spiderwire Wolf Bag Tackle Box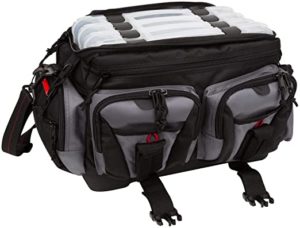 This 15.75 x 10.8 x 8.2 inches tackle box has all the storage capacity you will ever need for your fishing trip. This tackle bag is durable and as sufficient space for all your fishing. The padded handle gives you a much more secure grip with the shoulder straps being adjustable for ease and comfortable carrying.
Pros
Waterproof
Skid-resistant molded base
Padded shoulder straps to add comfort
Cons
Can get cuts and snags from hooks easily
Not durable for heavy duty use
Elkton tackle box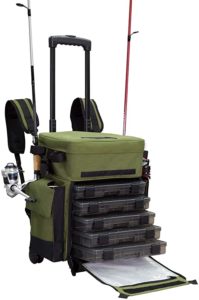 Elkton Outdoors Rolling Tackle Box helps you transport all of your fishing gear and while keeping it organized. Made from durable fabric combined with PVC, it will keep your tackle organized and in good shape for many years to come.
Pros
Large storage capacity
Excellent quality
Great design and layout
Cons
It is not water-resistant
Not suitable for beginners
Organizing it can be time-consuming
YOGAYET fishing bag tackle box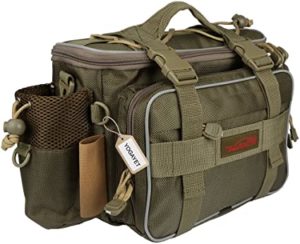 This is a nicely crafted tackle bag that uses 600D water-resistant nylon. Lightweight and easy to carry, it has plenty of room and compartments for organizing everything with ease.
Pros
Good design and great internal layout
Excellent quality construction
Sturdy and durable
Cons
Quite a bid tackle bag to carry for long ours
Not suitable for beginners
Wild river leathercraft bag tackle box
This tackle bag is quite large and made from canvas. It has pads at the base to keep the bag stable and reduce wear. With this tackle box, you will enjoy plenty of storage options and features. It is sturdy and will withstand up to many years of use.
Pros
Well-made and compact
Plenty of storage space
Has a lighted handle
Cons
It is not as portable because of bi size
Not suited for beginner fishermen
Not durable for heavy use