Gardening can be tough on the knees, but with the best knee pads, you can protect them from shock and damage while working on the ground. Knee pads are an essential tool for any gardener who wants to work comfortably and without getting dirty or compressed soil on their knees. They offer excellent protection without adding extra bulk, and are versatile enough for use in a variety of tasks, including scrubbing floors, painting, and washing woodwork.
There are two main types of gardening knee pads: mats (kneelers) and those with hand-grips that can also serve as a foldable stool for sitting. The former provides a comfortable surface to kneel on while the latter offers extra support and mobility.
If you're looking for more cushioning and comfort, specialized gardening knee pads are also available. These pads are designed to reduce stress on the knees and legs when standing or kneeling in the garden, providing relief and comfort throughout the day. With the right knee pads, you can work in your garden without worrying about discomfort or injury, allowing you to focus on your plants and the task at hand.
[ Best Cordless Electric Lawn Mowers ]
[ Best Electric Garden Tillers ]
A List of Top Best Knee Pads for Gardening
Red Home Club (Thick Kneeling Pad)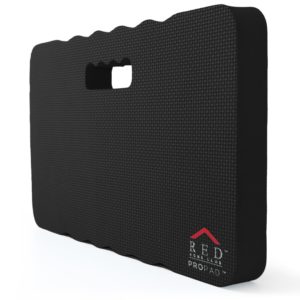 This one is larger than most kneelers in terms of thickness and width. Due to the rigidity and quality of the foam, it makes it less prone to punctures and tears.
Made from a thick and high density foam
A thickness of 1.5 inch
Durable
Cheaper compared to other kneeling pads
Midwest Gardener and Gloves Kneeler
This is a hardy and long-lasting knee pad created by the Midwest Gloves & Gear manufacturing company which is based in Missouri.
It has a spring systems which locks and held the extended legs in position improving stability.
Made from aluminum
Thick, durable and weather-proof
Fold with ease.
Gardman Fold Away Kneeler
This Kneeler is a gardening necessity created by Gardman, a company based in the United Kingdom. The company offers a variety of inexpensive products which are durable and long-lasting.
If you want a cheap and a sturdy kneeler, this is the right one for you. It is light-weight and rigid and folds up easily. It is the best cheap gardening kneeling pad.
Made from tubular steel
A one-inch thick foam
VonHaus Kneeler
This is similar to the Midwest gardening pad but made from steel rather than aluminum. It has a powerful spring locking system that offers maximum stability. Also, it has a tool bag that you can use while gardening.
The hand-grips are not as deep as those of the Midwest kneeler. You need to go for this one if you prefer a powerful model and quality design.
Foam is thick, durable
Fully weather-proof
IdeaWorks Comfort Kneeler
Some people may think that high-density mats are too hard to kneel on.
This is not an issue, but if you need more comfort, you should go for this IdeaWorks Comfort Kneeler.
It is not hard-wearing but it is ideal for lighter gardening. It is not expensive to replace it regularly when it wears and tears.
2 inch thick with a great cover
HappyPicnic Gardening Kneeler Pad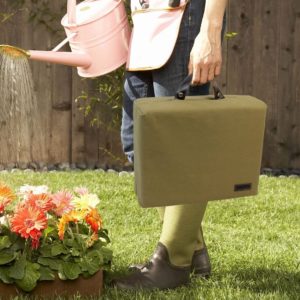 A soft and comfortable pad every gardener can dream of having one for the morning chore. With this top quality HappyPicnic kneeler pad, you'll enjoy your gardening time than ever.
50D high density memory foam
Snap fasteners when not in use
Thick yet lightweight
Shock-absorbing
KI Store Garden Kneeling Pad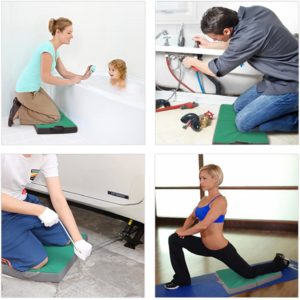 Interestingly, this product would re-soften when used indoor or days get warmer. The nylon-coated neoprene cover is easy to wash. The thickness and the sponginess of this kneel pad is great value for your money.
Portable
easy to clean
Stain-resistant and quick dry
KHAYA Knee Pads for Work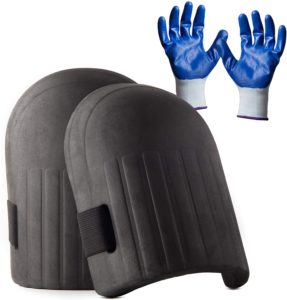 Ideally, the KHAYA Knee Pads for work more than just for gardening purpose. You can also use it for construction, plumbing jobs, carrying or moving supplies and materials like bricks and wood. It's designed to protect users from unexpected injury.
Widely adjustable
Comes with free gardening gloves
BackJoy Kneeler Seal Blue Colored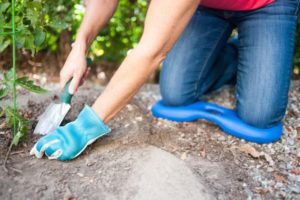 Want to avoid uncomfortable knee pain? Get this BackJoy Kneeler! Now. We love the foam, which is firm at first on the knees but softens with use.
Built with Dynamic Comfort material
convenient handle and lightweight
Milliard Bath Kneeler Pad/Baby Bath Kneeling Cushion Mat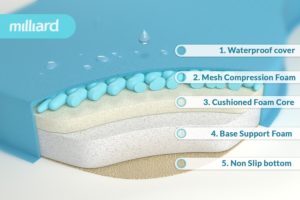 If you spend many hours kneeling on hard tile floors, this is one of the best kneeler pad for two purposes: gardening and for baby bathing. As a result, you'd spend less for more. It's light weight but sturdy, and waterproof.