Did you know that Americans dispose of an estimated 3 billion batteries each year? This waste can be significantly reduced by opting for rechargeable batteries that can be reused up to 1,000 times or more in some cases. By doing so, you will not only save on expenses but also contribute to conserving the environment.
When purchasing a battery charger, don't be tempted to buy one based on its charging speed alone. A fast-charging charger can significantly reduce your batteries' lifespan. Instead, choose a unit that slowly and gently recharges your AA batteries.
If you're impatient with long-charging intervals, consider purchasing multiple sets of rechargeable batteries for your device. This way, you can always have a fully charged set ready to use. With technological advancements, some chargers come with conditioning functions that cycle the batteries through recharging and discharging to help them reach their full capacity and prolong their life. Smart chargers also stop charging once the batteries are full.
Now, you might be wondering, what's the best battery charger on the market? We've compiled a list of the top 5 best AA battery chargers with a proven track record of performance, versatility, and durability. This guide will help you make an informed decision and choose the best battery charger that suits your needs. So, let's get started!
A List of Top 5 Best AA Battery Chargers
Nitecore D4 Charger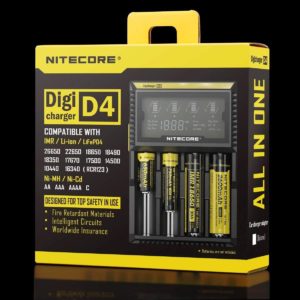 Considered among the best on the market today, the Nitecore D4 Charger comes with an LCD panel that displays the charging progress in a five-bar indicator.
Moreover, it automatically detects and charges different types of batteries, particularly AA units, and can charge at least four batteries during one period of time without stopping.
The Nitecore D4 Charger also comes with the Mode button, which details the parameter information, like voltage, current, and charging time, as well as charging progress. Apart from the charger, you will also get four AA NiMH rechargeable batteries and a wall plug.
Pros
Detects the battery automatically
Capable of charging a large variety of batteries
Large LCD display
Cons
Displays the charging progress of only a single battery at a time
Time of charge increases when charging more than one unit
The Powerex MH-C800S 8-Cell Smart Charger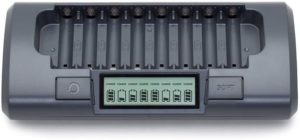 If you are a frequent use of AAs in your electronics, then the MH-C800S is a great choice. It will keep the batteries full and prolong their life.
This particular unit is capable of charging one to eight NiCd or NiMH AA batteries, displaying the progress of each battery on its three-bar LCD screen. Additionally, the MH-C800s comes with three modes, which includes rapid charge (1-2 hours), soft charge (3-4 hours), and conditioning. Conditioning takes a full day.
Pros
Conditioning cycle
8 charging ports
Cons
XTAR VC4 Charger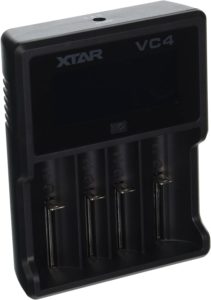 The VC4 is one of the most affordable AA rechargeable chargers on the market today. Notably, you can use it to charge different types and sizes of batteries.
The charger is uniquely designed as it has a USB charge cable rather than a wall plug. This means you can connect it to any device with a USB port. Its slots are also large enough to accommodate different battery sizes.
Pros
Cost effective
Capable of charging different types of batteries
USB power input
Cons
Panasonic K-KJ17MCA4BA Advanced Individual Cell Battery Charger Pack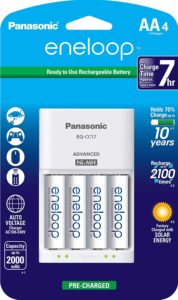 This is an ideal choice for someone who does not need a fast charge but is looking for a good charger for AA batteries.
Apart from being affordable, it has a unique, simple design that makes it easy to use. You only need to pop in the AA batteries and the wait for them to charge. Amazingly, it can charge one to four units, and when done, the charger switches off automatically.
However, the charge time is longer because its slower 300 mA speed, although it extends the batteries's lifespan.
Pros
Extends the battery life
Easy to use
Affordable
Comes with batteries
Cons
Takes longer to fully charge the batteries
La Crosse Technology BC100 Alpha Power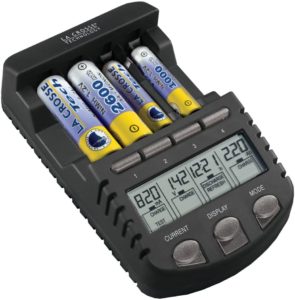 Although it is more expensive and complicated, the BC 100 Alpha Power charger allows you to charge old batteries at a fast rate.
With this AA rechargeable charger, you can set to different charging currents such as discharge, charge, test, and refresh. It is also capable of detecting a dead battery and stopping overheating.
The BC 100 also features a large LCD display and automatic tickle charge. It is a great choice for toy operators, photographers, and people who constantly use batteries.
Pros
Detects dead batteries
Protects overheating when charging
Prolongs your batteries' life
Cons
Expensive
Complicated to use
Related Reviews: