Top 10 Best Battery Chargers for AA and AAA Reviews (2022)
AA and AAA batteries are some of the most common battery sizes. The sizes are found in many electronics that play critical roles around the house, and their absence may substantially affect one's life. Traditionally, these devices used non-rechargeable batteries.
This was expensive as one had to buy new batteries every time the old one died. With modern technology, rechargeable batteries have taken over. When these batteries run out of charge, all one needs is a Best Battery Charger for AA size batteries to recharge them. This means one can now use the batteries repeatedly.
Rechargeable battery chargers can be bought from online or physical stores. Before buying these devices, one needs to do his or her research to ensure he or she acquires the best AA battery charger on the market. This article simplifies your research by providing you with the top 10 Best Battery Charger for AA and AAA reviews.
10. EBL 8 Bay Charger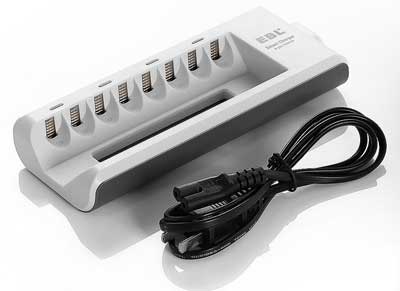 This product is the 10th best battery charger for AA and AAA batteries with the ability to charge 1-8 batteries at a go. The device is MCU controlled to ensure the safety of both its user and the product by automatically stopping the recharging of the batteries when short circuits, improper input voltage, or defective cells are detected. The device also has an output of 2.8V to ensure faster charging. The product can be bought.
9. AmazonBasics Battery Charger with USB Port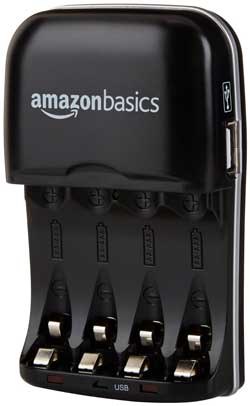 AmazonBasics battery charger employs a built-in power switching technology to ensure that the product can be used in any country whether the country uses 100V or 240V electricity supply.
The product can be used to charge 2 or 4 batteries at a go and mechanism to stop the wrong polarity charging or overcharging of your batteries. It charges AA and AAA batteries in just four hours and has retractable AC plugs to ensure it occupies minimal space in your travel bag. Order this product.
8. La Crosse Technology BC1000 Charger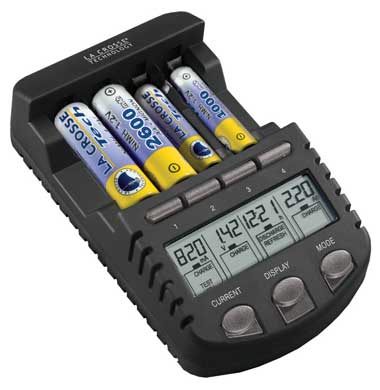 This smart device comes with an LCD screen to show the capacity of each battery when it is fully charged. Unlike other products, La Crosse Technology BC1000 allows users to charge AA and AAA batteries simultaneously.
Moreover, the device has to overheat detection capability, and users can also select the amount of current going into each of the battery to ensure maximum battery capacity. This smart device is available at.
7. EBL Universal Battery Charger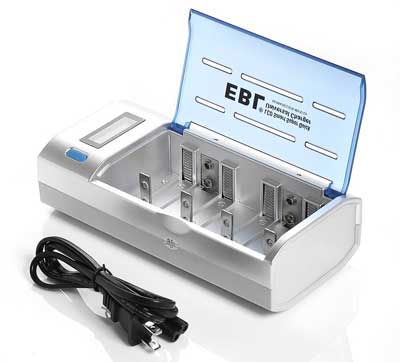 The EBL-906 charger is EBL's answer to the needs of its clients. The battery can charge both AA and AAA batteries simultaneously. Unlike the previous versions, the charger can charge an odd and even number of cells and has an LCD screen.
In its quest to be the best AA battery charger, the device is equipped with MCU and uses both AC and DC power sources. The smart device also has a constant current battery charging mode to protect your cells from currency fluctuations. Buy the charger at
6. NITECORE i4 Intellicharge Universal Smart Battery Charger
NITECORE i4 can charge 1-4 batteries simultaneously as the battery slots have independent monitors and charging systems. It can identify the various cells and ensure your AA, AAA, AAAA, and C batteries enjoy optimized charging.
It has three colors LED displays for each slot to indicate the charging of each battery independently. NITECORE i4 will also protect your batteries from overheating, reverse polarity charging, and over-charging. Grab yourself this product affordably.
5. SunLabz 16-Bay/Slot SMART Battery Charger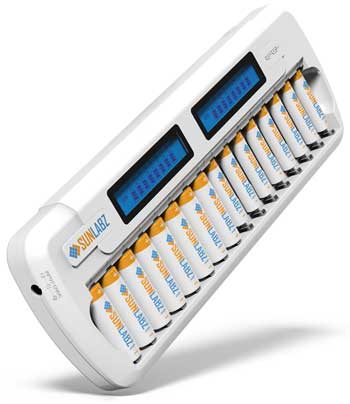 This battery charger for AA and AAA is meant for individuals who need more than the four traditional slots. With 16 slots, the user is also to charge any number of batteries up to 16 cells using the device's independent charging slots.
The charger is fitted with sophisticated security features to make it safe for both the users and the batteries. The device also automatically shuts off after 8 hours on power for extra protection. An LCD display is fitted to ensure you can monitor the progress of each battery. Satisfy your battery charging needs by buying the device.
4. EBL 12 Bay 9V Battery Charger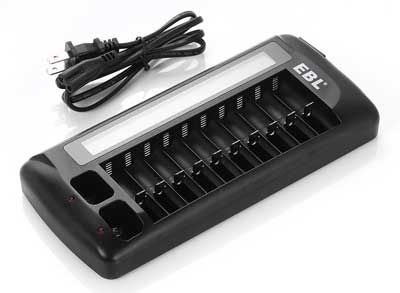 EBL has designed this product with the needs of clients who have multiple battery sizes in mind. With the 12 independent ports, one can charge up 10 AA or AAA batteries. The remaining two slots are designed to be used to charge 9V rechargeable batteries.
With the LCD display for the AA and AAA battery slots and a three-color LED for 9V battery slots, the device makes it easy to track the charging of each of the charging batteries. Like all EBL chargers, it comes with protection from overcharge, over-current, over-voltage, overheat, and short-circuit. View more details on EBL 12 Bay Battery Charger.
3. Tenergy TN162 8-Bay Smart LCD Battery Charger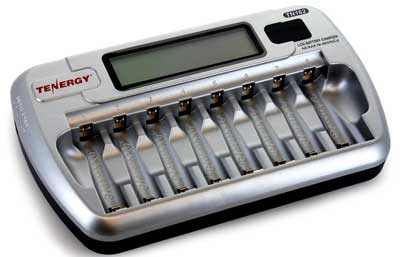 TN162 has eight independent charging slots to charge up to 8 AA and AAA batteries simultaneously. The charging process of each of the batteries can be monitored from the device's LCD.
Tenergy carries about the safety of its customers and their cells and has built-in overheat, overcurrent, and short-circuit protection in the product. The rechargeable battery charger also has a built-in IC. The NiMH and NiCD battery charger can be bought at.
2. ANSMANN Powerline 8 Automatic Smart Battery Charger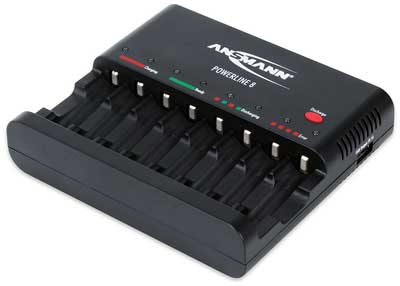 This product has been designed to charge both AA and AAA batteries. The included USB charging port can be used to charge smartphones. With multiple overcharge protection and voltage monitoring, the device is safe to use.
8 LED lights are used to monitor the charging of each battery independently. Moreover, the device can automatically discharge batteries with defects fro extra safety. Grab this cutting-edge ANSMANN product.
1. Nitecore D4 Charger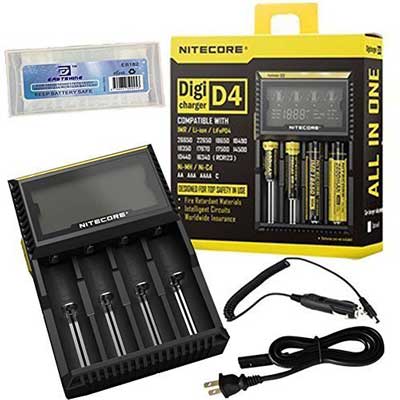 Nitocore D4 Charger comes with four slots capable of charging up to 4 AA, AAA, AAAA, or C batteries simultaneously. The batteries are independently charged, so you can charge any combination of the battery sizes.
The product comes bundled with the Eastshine battery box so you can charge your batteries in your car. The large LCD screen on the device helps the user to monitor the progress of the cells on each of the four slots. The product is the best battery charger for individuals who love road trips. Grab the product for your next road trip.
The above products have been carefully researched and tested to ensure this list contains the best battery chargers. By purchasing any of the above devices, you will get a reliable, affordable, and quality charger. Moreover, it is recommended that you further study the exact specification of each product to ensure you order the device that will satisfy your battery charging needs.