In modern times, a folding shovel has become an essential tool for outdoor enthusiasts. However, with so many brands and models in the market, finding the best survival folding shovel can be a daunting task. To make your search easier, it's important to consider certain features such as a solid carbon steel design for durability, compact size and weight, versatile multi-tool capabilities, and reasonable price.
When camping, a folding shovel comes in handy for turning over embers in a campfire, digging latrines, and burying organic waste, which can prevent animals from sneaking into the campsite at night. That's why it's important to invest in a high-quality folding shovel that can save your life in the wilderness.
To help you choose the best survival folding shovel, we've handpicked the top picks for you. Our recommended products are not only durable and reliable but also versatile and convenient. One of our top picks is the Rhino USA Folding Survival Shovel, which offers exceptional quality and functionality. So, whether you're backpacking, camping, or off-roading, make sure you have a high-quality folding shovel in your arsenal to make your outdoor activities easier and more enjoyable.
Also: Best Wheelbarrows for Gardening
Recommended: The Best Folding Shovels for Survival You Should Have in 2021
FIERRE SHANN Military Folding Shovel Foldable Multitool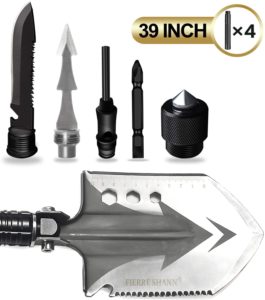 For a multitool that combines a variety of features in one device, I would recommend the Fierre Shann Military Multitool. This tool is a perfect combination of safety, ergonomics, versatility, and portability. The tool features a screwdriver locking device. This device allows it to stay at a certain angle to guarantee your safety during use.
• Sturdy and durable
The tool is made from manganese steel. This material is resistant to rust and corrosion, assuring you of obtaining a high-quality and durable multitool. The heavy-duty build allows it to withstand heavy-duty tasks. So it's it great for entrenching and digging jobs.
• Lightweight and compact
Also, the Fierre Shann Military Multitool is a good choice for a portable multitool. This tool is foldable into a compact size at only 10″ x 7.7″ x 1.9″ for secure storage into a backpack or car trunk. Moreover, the tool is lightweight for convenient transportation.
• Multipurpose tool
As one of the best multi-tools for survival, the folding shovel packs multi tools in one device. It includes a bottle opener, emergency whistle, nail extractor, knife, shovel, safety hammer, fire starter, bottle opener, screwdriver, saw, and a fish scaler tool. Thus, you can get it for use by hikers, survivalists, hunters, and outdoor enthusiasts in need of a versatile survival tool.
• Ergonomic Design
To enhance comfort and the overall experience of the user, the Fierre Shann Military Multitool integrates an easy-grip handle. Its handle features special veins that increase the friction while protecting the hands. Better, the shovel includes extensive bars for easy adjustment of the length depending on your height.
BISINNA Military Folding Shovel Camping Multitool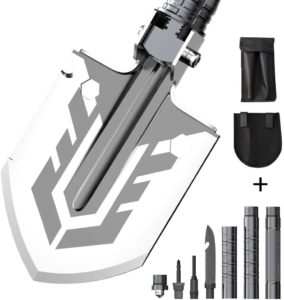 A perfect way to stay prepared for any unplanned situation in outdoor settings lies in equipping yourself with the Bisinna Multitool. The tool is versatile and best for tasks such as fishing, hiking, and off-road emergencies.
• Sturdy construction
Besides that, this tool features a durable and sturdy construction. It is built using high carbon steel and an aviation aluminum alloy. This material enables it to withstand heavy-duty projects for reliable performance. Adding to the sturdy design, the multitool includes a lock system. This system allows the blade to stay put at 0°, 90°, or 180° for your safety and protection.
• Compact and foldable
Another benefit of the folding shovel is the portable design. Ideally, it is lightweight at 2.42lbs, thus easy to carry. Better still, the multitool is foldable to a 9″ x 6.5″ x 1.8″ size for easy carrying in a backpack or vehicle's trunk.
• Versatile tool
The Bisinna folding shovel is a multipurpose tool. It integrates multi tools, including a hex tool, sawtooth, whistle, bottle opener, universal knife, magnesium rod, fish cutter, anti-skid rod, wrench, and fire starter. You can expect it to meet many needs such as sawing, bottle opening, digging, and chopping.
Rhino USA Folding Survival Shovel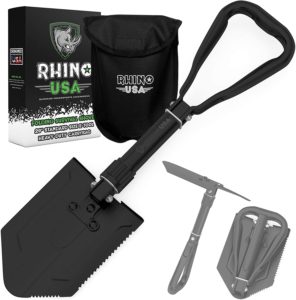 Having this folding shovel in your house, vehicle, or camping trip will be a blessing. The shovel will make the work that you are doing with it quite easy and convenient. The high-quality powder-coated carbon steel ensures its durability. And so it will serve you for extended periods. The powder coating of the carbon steel ensures that it is corrosion and rustproof. Hence it will not corrode or rust easily. The folding shovel comes with a warranty to guarantee its quality and to ensure the value for your money.
It comes with a free carry case for easy and storage and transportation. The shovel features a sharp reinforced sawtooth side. That you can use to cut wood while you out attending outdoor activities like camping. You can also this folding shovel as a hoe or a pickaxe by adjusting its head to a 90-degree angle. While camping in deep forest or hunting, you can use this shovel as a survival kit to defend yourself. Finally, this folding shovel is lightweight and, so, portable.
Overall, Rhino USA is my top pick as the best folding shovels for most people.
Pros
Quality steel construction
Ensures the value for your money
Carry bag is included for easy and secure storage
Suitable for various functions
Cons
May rust when exposed to salty climate after some time.
REDCAMP Military Folding Camping Shovel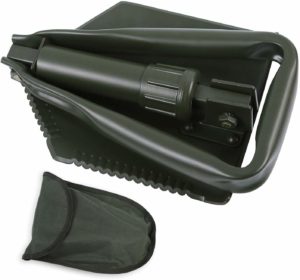 This folding shovel is made of 50# high-carbon steel body. So it's durable to use it frequently for extended periods. Additionally, you can fold this shovel for convenient storage. It comes with a carry pouch for easy and convenient storage and transportation. The high-carbon coating can resist corrosion and rust. It's great for outdoor activities.
The folding shovel comes with a 365-day full manufacturer warranty. So it's a good value for your money and guarantee its quality. With a blade thickness of 1.5mm, this folding shovel can penetrate even hard grounds. The folding shovel weighs only 2.5 pounds, making it a lightweight tool, thus highly portable. You can use the sawtooth edge of this folding shovel for cutting wood. Further, this folding shovel is a multi-functional tool. It is best for various activities, i.e., a self-defense weapon, fishing, and backpacking. You can rotate this shovel to an angle of 90 degrees to use it as a hoe or pick saw.
Pros
Lightweight
Easy to store
Sturdy
Multi-functional
Durable
Affordable
Cons
The 365-day warranty is quite short
SOG Survival Entrenching Folding Shovel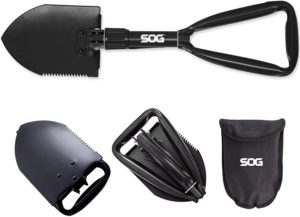 You'll have an easy time during use this folding shovel. It's durable. It will serve you for extended period even if you use it frequently. Its tempered steel head and carbon steel handle that can withstand heavy-duty works. The high-quality carbon steel and the tempered steel materials makes it sturdy. It's best hence for heavy-duty activities. The black powder coat makes it resistant to rust and corrosion hence suitable for use even in damp areas.
The shovel has a folding tooth that you can use as a saw or a spade. You can adjust it to suit your preference. This shovel weighs only 24.5 ounces, which is light and so making it lightweight and portable. You can fold this shovel; when not using it for easy and secure storage. Finally, a warranty is good value for your money.
Pros
Corrosion proof
Highly portable
Carry case included
Trifold compact
Suitable for multiple functions
Durable construction
Cons
Gerber E-Tool Folding Spade

The high-quality boron carbon steel is durable material. The spade is powder-coated to withstand corrosion and rust. It is suitable for use in outdoor areas with damp conditions. The fiberglass used to make the handle of this folding shovel makes it sturdy. And so you can use it for heavy-duty activities.
This folding spade comes with a limited lifetime warranty. It is the best value for your money. The aluminum material used to make this folding shovel shaft makes it lightweight. The folding shovel weighs only 2.25 pounds making it highly portable. You can easily fold this shovel for easy and secure storage. You can use its sharp saw-tooth for cutting wood while camping outdoors. Last, this folding shovel has a locking mechanism that you can use to keep it open and stable during use.
Pros
Rustproof
Durable
Lightweight
Limited lifetime warranty
Cons
When exposed to salt, it can easily rust.
CO-Z Mini Folding Shovel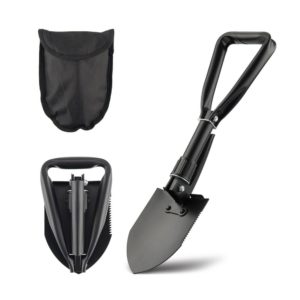 The high-carbon steel makes this folding shovel durable. It's also sturdy and robust; thus, you can use it for heavy-duty activities and various surfaces. Coated, it can withstand rust and corrosion. It's suitable for use in damp and humid locations. This folding shovel weighs only 1.8 pounds making it lightweight and portable.
This folding shovel has a triangular structure handle for an easy and secure grip during use. You can use it for various outdoor activities like a crowbar for hard soil and pry stone, and a saw for sawing off branches. The reinforced bolts in this shovel help in improving its durability and robustness. It has a saw-tooth age that you can use for cutting branches of trees in your garden or any outdoor area.
Pros
Highly portable
Easy to store and transport
Premium construction materials
Suitable for various functions
Sturdy
Cons