Best Dutch Ovens for Sourdough Bread (2022)
With so many ovens for sourdough bread in the market, getting a great option may be challenging. But when it comes to the best Dutch ovens, bread baking will be like taking the candy from the baby. Therefore, you need to try one. However, we've considered essential features such as maximum heat retention ability, thick-walled, heavy base and lid, shape and sizes and more. Therefore, here are the best options for you;
A List of Top 5 Best Dutch Ovens for Sourdough Bread
1 Le Creuset Enameled Cast Iron Dutch Oven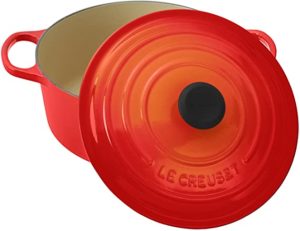 Le Creuset Dutch Oven features a durable and versatile piece of cookware since it combines both traditional and current innovations. The exterior is coated with enamel which protects it against cracking or chipping. Similarly, the interior part is also coated to provide an excellent solution against food stains. When we talk of sourdough bread baking, this brand boasts superb heat retention out there. Most importantly, the pot, lid, and composite knob can withstand maximum temperatures of up to 500 degrees Fahrenheit. Also, the lid seals tightly to keep the steam and heat inside, resulting in browning and crust development.
Pros
Resistance to wear
Excellent heat distribution and retention
Resistant to cracking and shipping
Withstand huge temperatures
Cons
Costly
2 Lodge 5 Quart Dutch Oven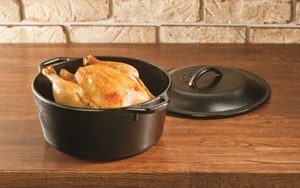 This cast-iron Dutch oven has a 5-quart capacity which makes it favourable for a good-sized loaf. Similarly, its design makes it perfect for sourdough bread since it has a good depth. The depth allows enough rising space for your dough. Also, the lid fits tightly, which facilitates heat retention. Uniquely, it can be used for both indoor and outdoor purposes. This means that you can also use it as a smokey open fire when camping. Additionally, it has an excellent heat distribution making it best for sourdough bread.
Pros
Durable
Easy to clean
Good heat distribution and retention
Non-stick finish
Cons
Costly
3 Crock-pot Artisan Oval Dutch Oven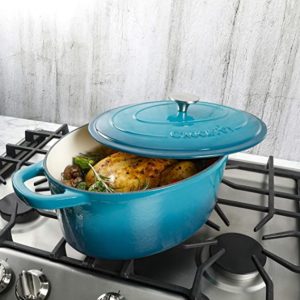 This Dutch oven has a 7-quart capacity with a deep design making it perfect for a larger sourdough loaf. Similarly, it has a white enamel coating on the inside which makes it easier to clean. It has two solid handles that make transportation easy. For heat retention and distribution, the cast iron construction guarantees its outstanding performance. Additionally, the lid seals perfectly hence responsible for retaining the steam necessary for its purposes. Also, the stylish finish adds character to your kitchen.
Pros
Good steam retention
Durable
Easy to clean
Perfect for sourdough loaves
Cons
Costly
4 Overmont Dutch 5 Quart Oven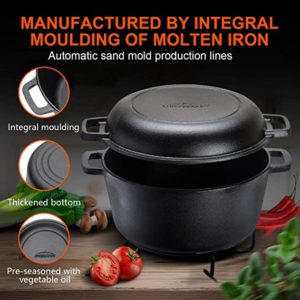 Vermont features durable construction with sturdy and comfortable handles. This makes it easy to transport it safely. Similarly, it has good heat retention and distribution hence providing outstanding results. With the double cast iron, it can withstand huge temperatures considered to be safe for non-stick pans. It also makes it suitable for both stove and oven use. Consequently, Overmount seasons its cookware with vegetable oil, which means zero synthetic coating and chemicals.
Pros
Comfortable handles
Good heat retention
Durable
Easy to clean
Cons
Costly
5 Uno Casa Cast Iron Dutch Oven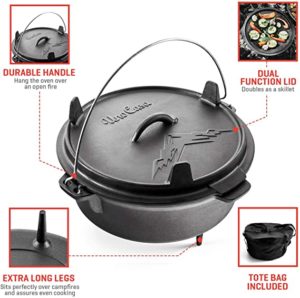 If you love camping or looking for an outdoor Dutch oven for sourdough, then this could be the best option for you. It has a 6-quart capacity making it suitable for perfect sized sourdough. Similarly, the cast-iron guarantees unparalleled heat retention and distribution hence helping you attain perfect cooking. Also, it has a dual function lid that is designed to hold hot coals, which means that you can apply heat from all directions. Additionally, it has an added handle that allows you to hang your dutch oven over an open fire.
Pros
Good heat retention
Durable construction
Even distribution of heat
Large-sized
Cons
Designed majorly for outdoor use
Conclusion
From our guide, we've consulted a variety of sources and tested different brands. Therefore, we can guarantee you the best brand. But don't forget to consider the size of your budget. Try to make comparisons and check on which one can fit your needs. So, don't hesitate to place your order on any of our picks.