Choosing the right boots for your horse, whether it's the first time or a new set, can be a daunting task. With so many top-quality horse boots available, horse owners are spoilt for choice. Moreover, horse boot designers have created several varieties to cater to different riding styles and horse hoof shapes, including those for jumping, narrow hooves, trail riding, rocky terrain, and more.
Hoof boots are also an excellent option, offering several benefits for your horse. But should you go for barefoot horses or horse boots? While a barefoot horse can have great health benefits, such as natural hoof shape and growth, protective boots are still essential for various purposes, making the best boots for horses a crucial part of your care plan.
To help you make an informed decision, we've put together a comprehensive review of the best horse boots available on the market. Investing in the right horse boots not only brings comfort to your horse, but it's also a wise long-term investment. So, take your time to read our reviews and choose the right boots that best suit your horse's needs.
Best Slow Hay Feeders for Horses
A List of Top Best Horse Boots in 2021
Tough 1 Extreme Vented Sport Boots Set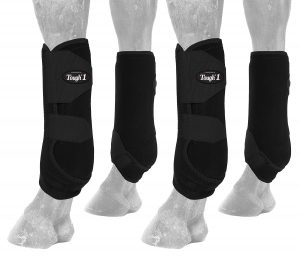 The Tough-1 Extreme Vented Sport Boots Set is a good option for horse owners who are looking for a comfortable and durable boot that provides support and protection. The boots are made of a durable synthetic material that is resistant to wear and tear, and they have a vented design that helps to keep the horse's legs cool and dry. The boots also have a suspensory sling that provides support for the fetlock and tendon, and they have a quick-release closure system that makes them easy to put on and take off.
Pros:
Durable synthetic material
Vented design
Suspensory sling
Quick-release closure system
Cons:
Can be a bit bulky
Not as affordable as some other brands
Overall, the Tough-1 Extreme Vented Sport Boots Set is a good option for horse owners who are looking for a comfortable, durable, and supportive boot. The boots are a bit bulky and not as affordable as some other brands, but they offer good value for the price.
Here are some additional details about the Tough-1 Extreme Vented Sport Boots Set:
The boots are available in a variety of sizes to fit horses from ponies to full-grown horses.
The boots are easy to clean with a damp cloth.
The boots come with a one-year warranty.
If you are looking for a comfortable, durable, and supportive boot for your horse, the Tough-1 Extreme Vented Sport Boots Set is a good option to consider.
Weaver Leather Prodigy Original Athletic Boots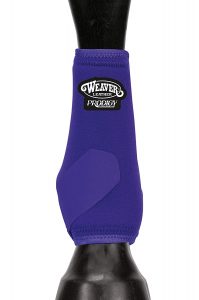 The great thing to like about the Weaver Leather boots (also using foam neoprene material) is that they help prevent expected injuries. Also, the price is quite reasonable, while the quality is really good.
Shock-absorption
Form-fitting
Back on Track Hock Horse Boots Pair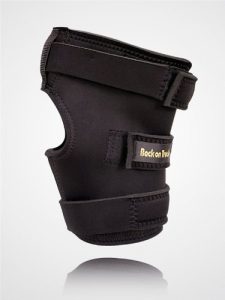 The Back on Track boots are a great investment. The outer neoprene shell are good quality materials used for making the horse boots. Ideally, it can help with injury prevention or recovery in muscles, joints, and tendons. In also helps warm up joints. A good way to start using this pair for your horse is a slow introduction. You should start with 4 hours to get your horse familiar with the boot. From there, can leave them on for 12 hours or more.

Finn-Tack Ice Wrap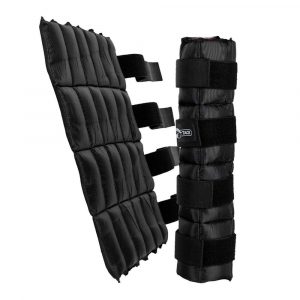 We recommend this ice wrap for cooling down your horse's legs to decrease swelling. Before using it, you should keep them in a freezer. If you want something substantial, not gel, then this is the best boot wrap you should buy.
Very durable
Stay cold for long
Shoo Fly Leggins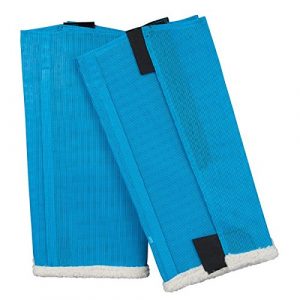 The best thing about the Shoo Fly Leggins is it helps prevent painful bites from flies and other biting insects. Made from flexible, plastic mesh, the boots provide good enough air circulation. As a result, the boot can reduce stress and stomping caused by fly bites. All in all, these are the essential features that most horse owners look for in a good pair of horse boots. The verdict is the Shoo Fly Leggins are the best fly boots ever.
Chemical-free
Easy to use
Velcro fasteners
Cavallo Simple Hoof Boot for Horses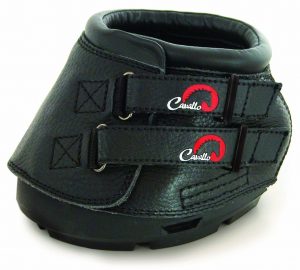 For those who have been looking for around for the best all-terrain hoof protection for their barefoot horse, the Cavallo Simple Hoof Boot is one of our top recommendations. The only downsize that you should be aware of the boots allow unwanted things like mud, dust, or debris to accumulate. The genuine leather materials used on the upper part is quite comfortable and flexible.
Easy to put on and to stay on
High quality and comfortable leather
Kavallerie Horse Tendon Boots Pro-K 3D Air-Mesh Horse Boots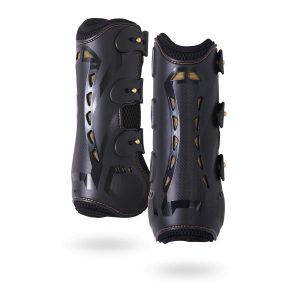 The Velcro is very strong. Great quality horse boots every owner can dream of. One thing to know before ordering the pair is that even the standard size is quite bigger than it should be. Made with a flexible and non-restrictive design, your horse can run fast and do show jumping and hunter jumpers.
Tough 1000 Denier outer shell with soft fleece lining
Very well made and comfortable
VEREDUS Carbon Gel Vento Colors Open FR Boots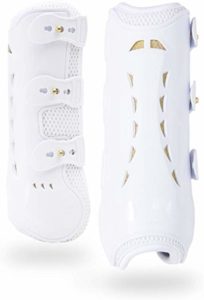 In this Veredus boots, the neoprene and 3D mesh fabric help with air circulation, making it comfortable for most horses. Overall, these are great boots for the money. Made with a flexible and non-restrictive design, the Veredus boots are one of our top recommendations.
Cannon bone protector with double ventilation
Anatomic design
Semi-rigid polyurethane shell