Top 10 Best Slow Hay Feeders for Horses (2022)
It's good to know that slow-feed hay nets are worthy for most horses on a diet. It's an effective way in decreasing body weight in overweight adult horses. The good thing is it maintains more moderate blood and hormone patterns. In this regard, it can help reduce behavioral problems and anxiety during meal times. That's why most horse owners prefer to have very durable high-tech poly slow hay feeder for horses.
All in all, having a slow hay feeder means that you and your horse live a happier and healthier life. You can minimize the anxiety around meal times and behavioral issues. Now is the time to get one of the best slow hay feeders for your beloved horses.
Have you ever wondered what are the best slow hay feeders for horses in the market today? A well-designed hay feeder is quite essential for horses. Well, it it helps slowing down your horse's rate of hay consumption. By lowing down hay waste, it can prevent critical digestion issues such as deadly colic. There are several choices to look into before buying the best slow hay feeder. It depends on your actual need. But you can consider either getting a permanent hay feeder or a hay and grain combination feeder. Go through through our list of recommendations to get to know more.
A List of Top 10 Best Slow Hay Feeders for Horses in 2021
Quick Feed Automatic Horse Single Feeder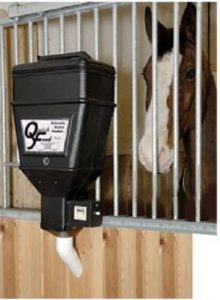 The feeder is very easy to install and use. You can either use electric cord function or 12 volt battery whenever you want.
Built in programmable timer
2-AA batteries
Snap lock lid
Combination hay and grain horse feeder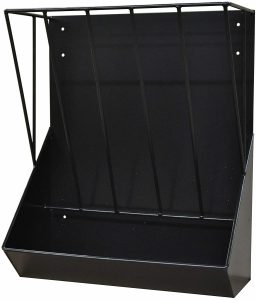 Made of steel by Country Manufacturing, this hay and grain feeder for horses works very well as most people expected. Well built, it's for heavy duty use.
Freedom Feeder Full Bale Slow Feed Hay Net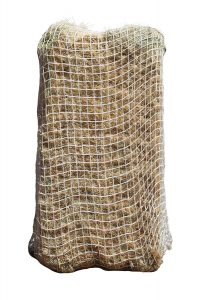 You can actually use this Freedom feeder for your horses and sheep and it works well. Not surprisingly, you'll notice that the feeder can keep at least two horses occupied for 24 hours on most days. What's else can you ask for?
Very durable and easy to use
3 size nets for every horse (DuPont nylon netting): 1″ for slow feeding, 1.5″ for average feeding or transitioning to a feeding net, and 2″ for aggressive eaters and larger horses
Derby Originals Supreme Patented Four Sided Slow Feed Horse Hay Bag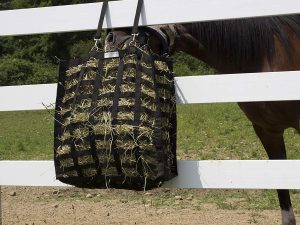 The reason we really love and recommend this Derby Originals Supreme slow horse hay bag because its clever design makes it really easy for more than one horse to enjoy their good meal time.
Four-sided design
Heavy duty build: sturdy and tough
24x24x9" hay bag features 1.75" by 3.5" rectangular openings
Cashel Corner Feeder Holds Hay for Horses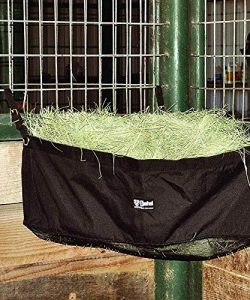 The very bottom line of this product is the price point that other horse feeder makers can beat. The bag is deeper you can imagine, which is really good for multiple horses.
Universal size with adjustable straps
Mesh bottom allows dirt and debris to fall through
Tough-1 Hay Hoops Original Collapsible Wall Feeder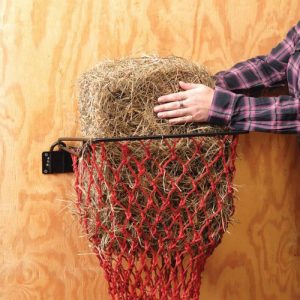 In short, the Tough-1 Hay Hoops feeder is just plain and simple. You can easily load the hay.
Encourages slow feeding
Low feeding position allows for more natural eating position
Locks flat to wall
Strong and durable
Freedom Feeder Round Bale Hay Net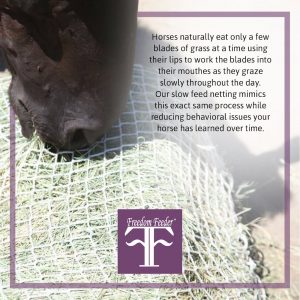 With this round bale hay net, you can save a lot of hays. It's really worth the price to save hay. The great thing about this round bale hay net is also that it takes up less room than a metal feeder. Not surprisingly, the DuPont nylon netting is made right here in the USA.