Living in rural areas can be challenging, especially when it comes to having a reliable source of electricity. That's why having a generator at home is important, as it can provide an alternative power source and be invaluable during emergencies. With advancements in modern technology, many companies now offer portable generators specifically designed for home use. Here are some of the best portable generators that you won't want to miss out on:
Best Solar Fence Chargers for Cattle
A List of Top 10 Best Small Portable Generators for Home Use
ROCKPALS Portable Generator
Your back-up source in case of emergencies. You can use it in both indoor and outdoor. It's compact and safe to use. It has temperature and overcharge protection. Unlike other generators, ROCKPAL upgraded its AC output to 250W. It can last longer, and it can generate most devices.
Pros:
It has 4 power options
It is rechargeable in 3 different ways (solar generator, wall outlet, and car 12V socket)
It has a pure sine wave inverter
It's lightweight
Cons:
You can't use it and charge itself at the same time.
No rubber feet to avoid sliding.
ALTIZURE Portable Power Generator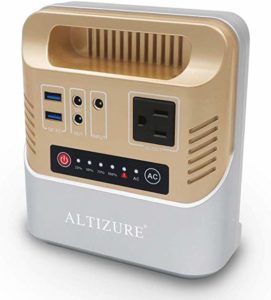 A stylish small portable generator that delivers an excellent performance. It has quality features that you can easily utilize. It comes with a gold and silver color. It is very handy. You can place and bring it anywhere. It is safe and efficiently useful.
Pros:
It doesn't make any noise like other generators.
You can charge most essential devices.
You can use it for outdoor activities.
You can charge it using solar panels.
Cons:
It can support limited devices.
The handle is quite small.
KRIEGER Portable Generator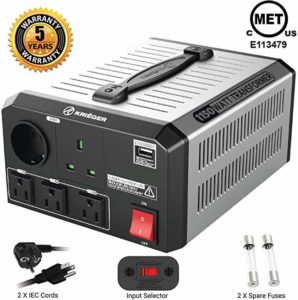 One of the best portable generators you can find in the market. It has KR 3000 power inverter that can handle small and big appliances. It is very powerful and can last for a long time. You can confidently use this device for it is METLAB approved. It has all the protection that you need – Overload, over-voltage, under-voltage, high temperature, and short circuit.
Pros:
It has an ultra-silent thermal fan.
It's multi-functional.
Package includes remote control, ANL inline fuse kit, 3 Ft battery cables, and a built-in hardwired kit.
It is easy to set-up.
Cons:
The generator's feet are not flat to sit in place.
The remote is not wireless.
CHAMPION 3500W Portable Generator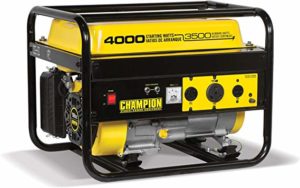 Manufactured by one of the best reliable power generation equipment company. It is a combination of power, performance and looks. It is compact and easy to manipulate. It can last for up to 12 hours on a full tank of gasoline. It can save you in times of emergency and power outage.
Pros:
It has a wireless remote that you can use from up to 80 feet away.
It has a 3-way ignition switch.
It has built-in Cold Start Technology for easy starts in cold weather.
It has a Volt Guard built-in surge protector that prevents overloads and keeps your appliances and equipment safe.
Cons:
It's quite noisy.
You have to hold the start button for about 3 minutes to turn it on in cold weather.
Honda EU2200i 2200-Watt Portable Inverter Generator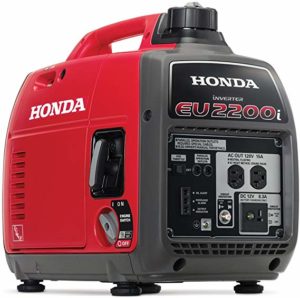 A highly recommended generator produced by Honda, a well-known company around the world. It is an upgraded version of its best-selling generator for the same price. It runs more energy, and it has improved user-friendly features that can make your life easier.
Pros:
It can operate a wide variety of appliances.
It is super quiet.
It has an exclusive Eco-Throttle System for great fuel efficiency.
Con:
DuroMax XP12000EH Dual Fuel Electric Start Portable Generator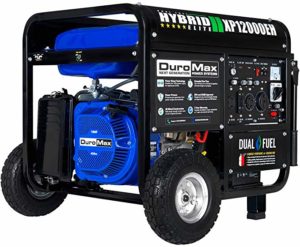 Your ultimate partner at home that can manage high voltage units such as lightning, refrigerator, and air conditioner. It comes with a black and blue color with a bendable handle and wheels. It is movable and easy to assemble.
Pros:
It has dual-fuel technology (propane or gasoline).
It can start 12,000 watts and run 9,500 watts.
It has 4 available outlets.
Cons:
It's quite heavy compared to other portable generators.
Wheels go flat over time.
ALLPOWERS Portable Power Generator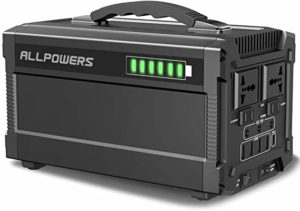 Your all-in-one power station. This device works wonders like a pro. It has exceptional features that you can't find to other generators. It's user-friendly and very handy. It claimed to be the lightest and smallest power supply in the market.
Pros:
6-in-1 Charging and 3-in-1 Recharging ability.
You can use AiPower APP to control it wirelessly with Bluetooth.
It supports wireless charging.
It has an LCD where you can monitor your battery status.
Cons:
You need to stay around the corner if you want to control it via Bluetooth.
It can only handle limited devices.
WEN 56203i Portable Generator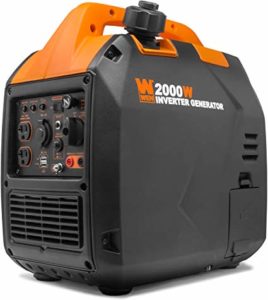 A compact device that is reliable comparably to the power you get from your outlet at home. It produces clean power that allows you to safely operate your devices. It has extreme durability and functionality. It carries a lot of power for its small size.
Pros:
It is extremely quiet.
It is equipped with fuel shut off that allows you to save and minimize your gasoline use.
It is lightweight (40-pound).
It produces up to 2000 surge watts and 1700 rated watts of power.
Cons:
You need to change oil every 25 hours.
Height is quite taller compared to other generators.
Generac 6954 GP8000E Portable Generator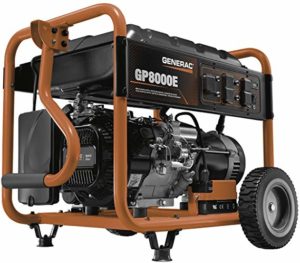 A perfect portable generator for indoor and outdoor use. It can hold up to 7. 5 gal. of gasoline and can run for about 12 hours. It has a fuel gauge that indicates a low gasoline status when you need to refuel. It is easy to store and transport anywhere.
Pros:
It produces 8,000 running watts and 10,000 starting watts.
It has a single touch electric start.
It has a low-tone muffler for quiet operation.
It has an automatic low-oil shutdown to prevent engine damage.
Con:
You have to assemble the wheels, handle, and feet on your own.
Westinghouse WGen12000 Ultra Duty Portable Generator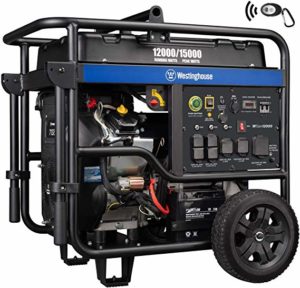 Produced by Westinghouse, one of the most credible brands in the market. Trusted for over 130 years, this ultra-portable generator can run up to 12,000 watts. It can support all your essential appliances at home.
Pros:
It has 10.5 gal. fuel tank capacity.
It can last up to 16 hours.
It has an electric start button.
Cons:
It's loud but tolerable.
It's heavy to lift.