The Best Kitchen Carts
Are you looking for a way to add more storage and surface area to your small kitchen? A kitchen cart could be the perfect solution! These carts are affordable, mobile, and versatile. You can use them to store pots, pans, and other kitchen items, or even repurpose them for use in your laundry room or for crafting.
When choosing a kitchen cart, consider your specific needs and preferences. You can find carts made from wood, metal, or granite, depending on your style and durability requirements. If you have a small kitchen, a top-rated kitchen cart could be the ideal choice for you. These carts are compact but feature drawers, shelves, and cabinets, providing you with ample storage space for utensils and other essentials.
To help you find the best kitchen cart for your home, we've compiled a list of top-rated options. From traditional wooden carts to modern metal designs, there's a cart on this list for every style and budget. So why not add a kitchen cart to your space and enjoy the benefits of extra storage and surface area today?
A List of Top 10 Best Kitchen Carts
WINSOME WOOD KITCHEN CART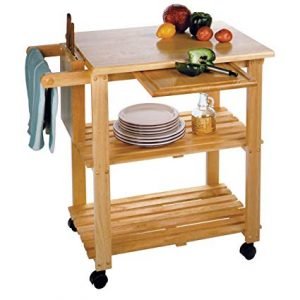 Over the years, it has emerged as one of the best kitchen carts in the market. It boasts of all the crucial features that you need in your kitchen. Its classic design makes the cart unique from the rest. The brand has been manufactured from wood and single paneling. This is the reason why many users describe it as solid and well-made. What are the main features? It has been designed with a cabinet inside the shelf. What is the great thing about this cart? It is simple and stylish.
Open Airy design
Cutting board, Knife block, Towel holder
2 locking casters
Assembly required
Materials: solid/composite wood
LANGRIA 3 TIER-WIRE MESH CART
Have you been looking for a high quality kitchen cart on a budget? It will meet all your storage and serving needs. Besides giving you extra workspace, it is great if you want to store extra kitchen appliances. It features hooks on one side. You can hang your utensils or any other object that you need to keep in handy.
Sleek profile and elegant black finish
4 casters (2 lockable) and 4 leveling feet
3 shelves and 2 side hooks
Sturdy and supports a max. load of 66 lb
Easy to install
THE CLEVR ROLLING BAMBOO CART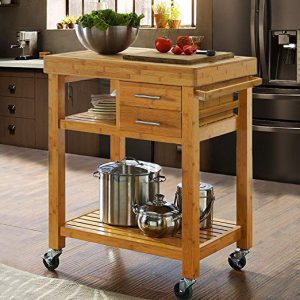 This is arguably the perfect choice if you want a kitchen cart made of wood that has more storage. Made of bamboo, it is a reliable wood with an attractive natural finish. This kitchen cart will offer you a work surface. Do you find yourself looking for more counter space? This kitchen cart has more needed area.
HOME GEAR KITCHEN STORAGE CART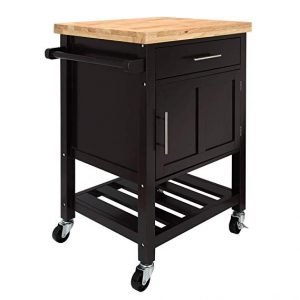 When it comes to durability, this is the best hardwood version. Users prefer this cart for its hardwood top. It is thick and solid. It is recommended for cooks who need large surface and prep area. You can store appliances and cookbooks in the drawer. The butcher block has the ability to hold more than 100 pounds. Despite wood construction, it is quite easy to maneuver.
LINON KITCHEN ISLAND GRANITE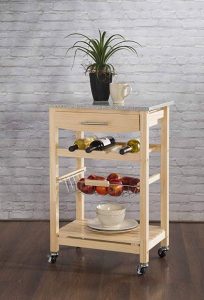 Satisfied customers have praised it for its heat and scratch resistance. The top has been made from granite which is a great choice when it comes to the work surface. The simple natural frame is perfect for many kitchen tasks. When you buy this cart, it comes with a wine rack, shelf and a basket. High-quality granite makes it more useful in kitchen.
SEVILLE CLASSICS STAINLESS STEEL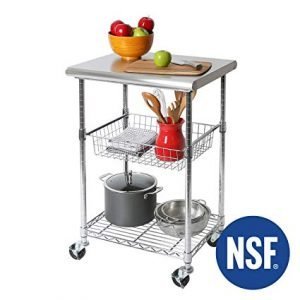 Do you really want a professional-grade kitchen cart? A stainless steel model has the ability to handle anything. The kitchen cart has solid build quality for tough kitchen tasks. If you have used it in the past you can agree with me that it met the demands of your busy kitchen.
ORIGAMI FOLDABLE KITCHEN ISLAND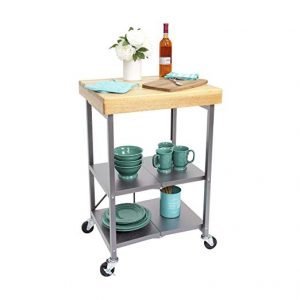 Why don't you take full advantage of this kitchen cart if your kitchen is at a premium? Fold it when not in use, this will save your kitchen space. This is the reason many apartment dwellers prefer using it. You will be very pleased with the smooth wood surface when using it. For the last couple of years, many users have been commenting on the easy assembly of this kitchen cart.
CATSKILL CRAFTSMEN DROP CART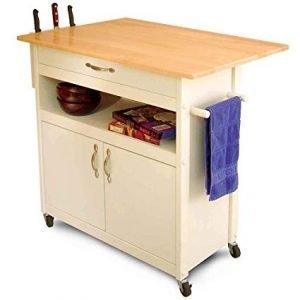 This is mainly for a kitchen that can pull double duty. It boasts of all the necessary features that a culinary cart should have. Utility drawer and locking wheels are some of the features it comes with. It has emerged as a great option if you really need extra seating in the kitchen.
HOME STYLES DOLLY MADISON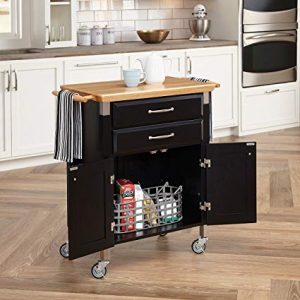 Serving as a storage cabinet, the finishing is done in a unique black color. Four wheels mean that it will be very easy if you want to move the cart around the kitchen. It comes with towel bars. You can hang your kitchen towels or even apron.
HOM COM ROLLING TILE TOP CART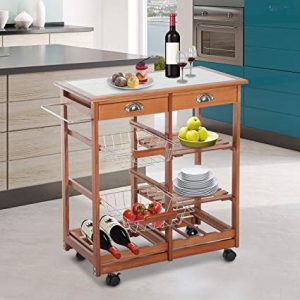 This kitchen cart comes with great features. This makes it settle in the dining area. It has several storage sections that include wine compartment. It has been crafted into small sections.