Are you someone who works long hours or is constantly on the go? If so, you know how important it is to take care of your body and manage stress. That's where massage chair pads come in. These pads are essential for providing comfort and relaxation, and they can easily fit into most chairs for your convenience.
Our team has done the work for you by ranking and reviewing the best massage chair pads on the market. These pads are slim and lightweight, making them easy to transport wherever you go.
Whether you're in the car or at the office, you can stay stress-free and relaxed with one of the top 10 massage pads we've reviewed. And because they fit seamlessly into most chairs, you can enjoy a massage session without anyone even noticing.
[ Best Shower Chairs for Elderly ]
Best Neck and Shoulder Massagers
A List of Top 10 Best Massage Chair Pads
Massage Chair heated Back Seat Massager Cushion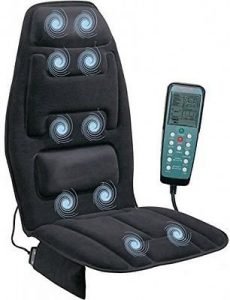 Keep your body relaxed at home, office, or even in your car with this excellent massage pad. It features a chair form design that fits it on the chairs. The chair pad comes with a touchpad control for easy control and management of massage options. It covers the back area all down to the thighs. It comes with an adaptor to reduce heat accumulation.
5 Massage motors to relax the back and the thighs
Seat vibration settings with 3 speeds
Easy-to-use hand controller with storage pouch
Adjustable straps secure to seat
Soothing heat treatment in lumbar for more intensive relief
Shiatsu Back Massage Chair Pad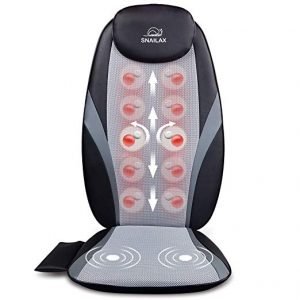 This amazing chair massage pad provides four different treatments, which include; kneading, massage, and travel up and down relaxing. It fits in most of the chairs so you can comfortably use it at home and office. The massage pad can adjust to different intervals depending on the kind of treatment you need. This massage pad has a vibration power that provides different massage intensity from the back to the hip areas and thighs. The pad works perfectly for soothing and relieving tension, fatigue, and stress on these areas.
4 deep kneading massage nodes
Detachable intensity control flap
Vibration on seat with adjustable 3 levels intensity
Snailax Vibration Massage Seat Cushion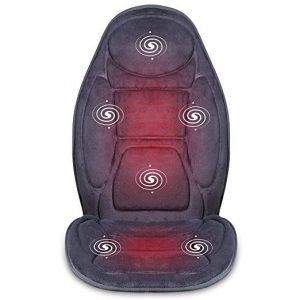 With the available six different vibration motors and three therapy heats, you are guaranteed to get the best massage results. This massage pad targets the upper and lowers back area, thigh, and the hips. You can use it to relieve pressure on the back, muscle pains, and also stress. It is programmable to different massage and vibration options to suit you depending on the results you want to achieve from the pad. The pad provides a soothing effect on the back to help you have relaxed joints/ muscles and improve good blood flow. The pad features z cozy and comfortable padding to ensure total comfort while sitting on it.
Naipo Shiatsu Back Massage Seat Chair Pad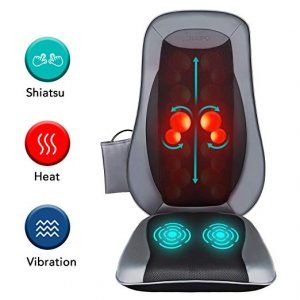 If you are prone to experiencing back pains and joint stiffness around the hips and thighs, this is the perfect massage to buy. It has varying heat adjustability where you can choose the kind of massage effect that works for you. It targets various parts of the body, including the back and legs. The pad can be adjusted in height if you want to massage from the neck area downward. The seating area is large enough to accommodate the majority of people, and it also takes little time to heat up. Note that the seat pad also comes with a strap for proper fastening when used in the car.
Relaxzen 6-Motor Massage Seat Cushion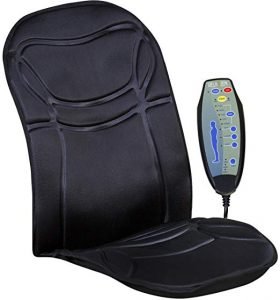 This chair pad comes with a total of six massage motors that targets the muscles at the back, lower back, and the hips area. You can choose the rate of massage mode ranging from low, medium, and high if you are experiencing intense pains. This massage pad is perfect for people who experience a lot of strains on the lower back because it works magic in soothing and relieving tension on these parts of the back. It has thick padding for comfort while seated, and the hand controller makes it easy to change the massage cushion even on the move.
Homedics Shiatsu max 2.0 Electric Heated Shiatsu back Massager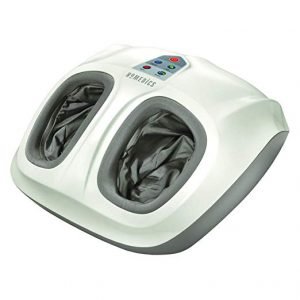 If you are looking for a seat massage pad that can cover the majority of body parts, then this pad from Homedics is the right option. The massage pad provides effective results in areas like the shoulders, the back, lower back, hips, and the thighs. You can use it to relieve tension on the muscles and tissues, stress, and pain as it provides deep-kneading kind of treatment. You can adjust its height and width for a comfortable fit in the chair. There are a total of 14 different massage programs to choose from. Note that this massage pad comes with straps for proper fastening.
Salter back massager Shiatsu Massage Chair Pad Seat Cover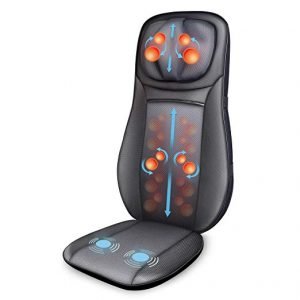 This is another recommendable chair massage pad that covers a majority of areas such as the shoulders, legs, and even the whole back section. There is different massage treatment to choose to range from deep kneading, rolling vibration, soothing, healing, and many others. This chair features a reasonable size that is adjustable to fit in different chairs at home, office, and even in car seats. The pad comes with a hand controller for easy changing and setting up the massage rate and interval you require. You can also set this pad to target a specific area that you want to massage.
Tisscare Shiatsu Neck and Back Massage Pad with 3 D Full-back kneading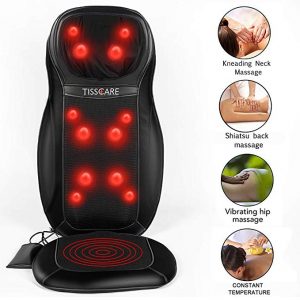 This is a two in one massage pad that provides a full back and neck massage. The pad is equipped with 12 different massage modes to choose from. It has 3 D kneading modes for those who want to relieve pain or stress on the back muscles. Perfect and flexible to use at home, office, and even in cars, you can adjust massage pad to different sizes to fit on the chairs. The massage pad provides a soothing heat option that warms up the muscles at the back and neck. Using this massage pad is comfortable.
Comfier Shiatsu Back Massager with Heat Deep Tissue Kneading Massage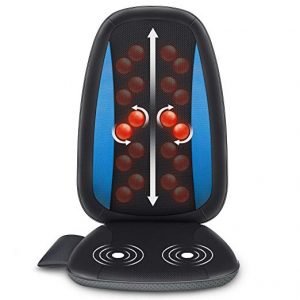 This seat pad massager comes with remote control for a comfortable setting to different massage modes and intervals. You can use it for soothing healing and deep kneading, depending on the intensity of pain and muscle stress you feel. The pad is well padded to ensure you are comfortable. This massage pad helps to improve the excellent circulation of blood, relieve pain on the back and hip areas.
Relaxzen 10-Motor Seat Cushion Pad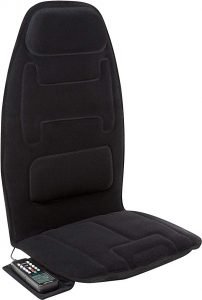 This massage pad targets three regions, which are the upper back, lower back, and the thigh areas. It has 5 different massage modes to choose. The thick padding on the seating and back area are comfortable. The pack comes with a handheld remote for easy controlling purposes. The pad has 3 different massage modes that range from low, medium, and high.