Stainless steel drinking glasses come in a variety of styles, so it can be challenging to choose the right one for you. To make things easier, we conducted research and real-world tests to compile a list of the best stainless steel cups on the market this year. Investing in top-rated stainless steel drinking glasses will provide you with the flexibility and ease of use you need. When shopping for the best stainless steel cups, consider the following factors:
Durability: Choose glasses that are built to last and can withstand frequent use without breaking or denting.
Material: Opt for high-quality stainless steel cups that are resistant to corrosion, rust, and stains.
Design: Look for sleek and stylish stainless steel cups that can complement any home decor while providing the convenience and safety of plastic-free drinking.
With so many options available, it can be overwhelming to choose the perfect stainless steel cups. However, by keeping these factors in mind, you can easily find the right one that suits your needs and budget.
A List of Top Best Stainless Steel Drinkware
Bbto 2 Set 12oz Stainless Glasses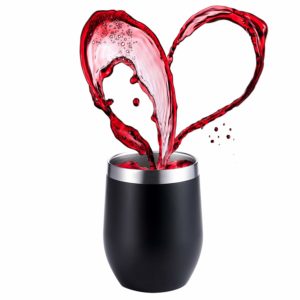 This is one of the best stainless steel drinking glass. Its a perfect choice for taking your wine. Its made from a stainless steel material and has a removable lid which has a straw hole.
The stainless steel glass has a double wall which offers excellent insulation capabilities. Although it comes with a straw cleaner, the only downsize is the straw is not made of silver.
Overall, it's a beautiful mug, which is a good gift for most people.
Lightweight and durable
Available in many colors
Lid material: ABS
Rtic 30oz Double Wall Insulated Tumber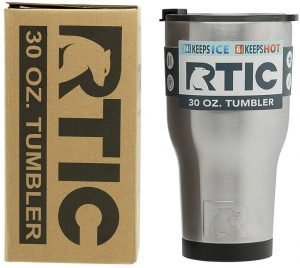 This stainless steel tumbler comes with a clear splash-proof lid. The double walls and vacuum insulation ensures there is maximum temperature retention. What to like about this product? The Flip-Top closure resists spills and is straw friendly.
A narrow bottom which allows the cup to fit in a broad class of cup holders.
The cup can hold ice up to 24 hours.
Easy to clean
Great grip base
Beast Teal 30 oz Stainless Steel Tumbler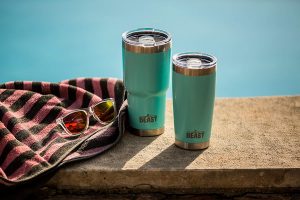 Insulated and splash-proof, it helps keep the temperatures of the drinks for long. The glass has a beautiful and smooth finish. The reusable steel straw and splash-proof lid is super useful. Essentially, the mug is great for all day travel.
Sweat proof
The finish is stylish
Electro-polished interior
Contigo Autoseal Stainless Steel Glass
The Tumbler comes with an auto seal lid which makes it leak proof and spill proof. The Lid can be removed for easy cleaning and storage of the Tumbler. The tumbler is long lasting due to the stainless steel material. Its sweat repelling ensuring you have maximum grip and doesn't have rust.
Hot drink for 5 hours and cold beverages for up to 12 hours
Double wall
Tru Blu 12 oz Stainless Steel Cups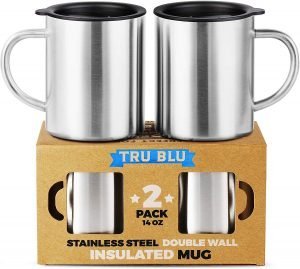 This is one of the best stainless steel drinking glass. The glass is electroplated making it an excellent choice for your kids. The glass is light and sizable which makes it also an excellent choice for your kids.
Shatterproof and rustproof
Stylish cup for a long life span
Simple Modern 30 oz Stainless Steel Tumbler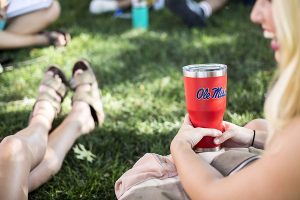 The tumbler is double walled and vacuum insulated. This will allow the glass to keep you drink temperatures the same for as long as possible. The lower part of the glass can fit in normal-sized cup holders.
The lid is clear and can retain the temperature of the tumbler
The 18/8 stainless steel
Durable and sweat free.
Keep the glass rust proof and free from precipitate which could make the glass slip
Artic Stainless Steel Camper Tumbler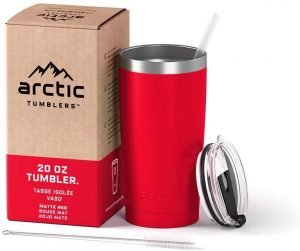 The glass is made from a steel material which is considered healthy for human use. The 18/8 stainless steel is also tough making it durable. The tumbler is sweat free which ensures it does not rust. The exterior has a powder finish which makes it look classy. The base of the glass can easily fit in a cup holder.
The double walls and vacuum insulation to keep hot drinks up to to 6 hours
Stores ice for a duration of up to 24 hours
Lux Stainless Steel Double Walled Drinking Glasses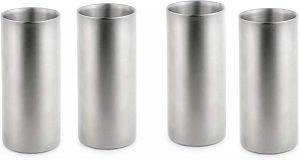 The glass is made from double walls to ensure it retains the temperature of your drinks. The material is treated to make it resist bacteria. Its made from an 18/8 stainless steel material which is safe for human use.
The exterior is brushed to give it a stylish finish
Liquid Savvy Stainless Steel 30 oz Tumbler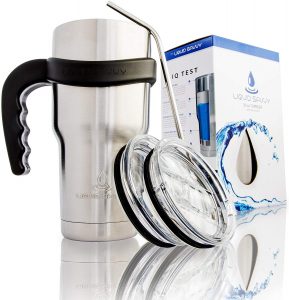 Made from 18/8, the tumble does not affect the health of a user. Vacuum insulated and double walled, it ensures they keep the temperature of your drink. The lid is clear and can't leak the temperatures of your drinks. Its cover is designed to sliding for closing. The glass can fit appropriately in a cup holder. The material protects the glass from sweating which would make it slippery or wet your desk.
Keep your drink cold for up to 24 hours and warm for 6 hours
A handle for easier handling
Atlin 30 OZ Double Wall Tumbler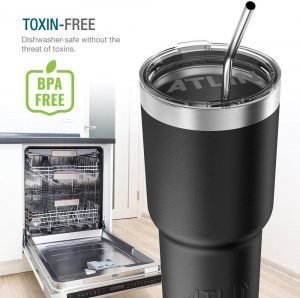 This is one of the classy Tumbler you can get in the market. Made from pure stainless steel, its one of the dishwasher friendly tumblers you can get in the market. Double layered, the tumble can keep the temperatures of your drink.
Clear and weatherproof lid Tumbler
Convenience
Grip-friendly glass making it easy to carry around