An ergonomic standing desk chair is a popular choice among people who work from home. Standing for some part of the day has been proven to have health benefits, such as burning more calories. However, standing for extended periods can also cause discomfort. That's why it's important to pair your desk with the right standing desk chair.
The best standing desk chairs offer comfort and support, allowing you to focus on your work without worrying about aches and pains. But, it's essential to choose the right chair for your needs and avoid sacrificing your comfort for a cheaper option.
Don't settle for just any chair on the market; invest in the best standing desk chair that suits your individual needs and preferences. Your body will thank you for it!
Also: Best Standing Desks for Home Office
A List of Top 10 Best Standing Desk Chairs
AIMEZO Height Adjustable Standing Desk Chair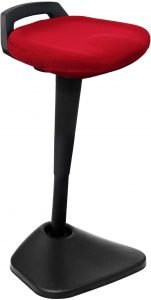 Enhance your productivity and wellbeing during the workday once you sit on Aimezo Standing Desk Chair. The chair features a solid steel lift pole to guarantee strength. Further, it includes 100% Polyester with Soft Sponge and PP to ensure easy maintenance. The seat base features a 360° Swivel design and a non-skid surface so that you can lean, tilt, and rock with an assurance of safety. You can adjust the chair's height from 25.9″ up to 35.8″ because of the reliable air-lift piston mechanism.
HON Perch Stool, Sit to Stand Backless Stool for Office Desk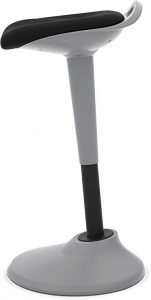 A perfect seating solution designed for use with active people is HON Perch Sit to Stand Backless Stool. The stool allows for pneumatic seat height adjustments so that you can move from the seating to standing position with a lot of ease. Also, it features a 250pounds user weight capacity which makes it suitable when used by a range of persons. The lightweight frame and flared handle are other additions designed to guarantee easy lifting. Moreover, there is a pivoting base that allows it to tilt forward so that you can maintain the posture. The seat can tilt forward, swivel to the sides and swivel up to 360degrees to offer a broader range of motion.
Kore Design Office Chair: Wobble Chair – Standing Desk Chair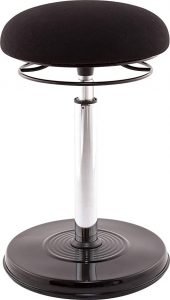 Designed to help decrease back pain and support the weight, Kore Design Office Chair is a perfect choice for users who want to stay focused for longer periods. The standing desk chair lets you exercise the back, legs, and abdominal muscles to help relieve soreness and stiffness. Besides that, the stool allows you to rock and swivel so that you can move and burn calories while sitting. The chair adjusts in height from 18″ to 25″ so that it can suit a variety of users. Besides that, it includes a counter-balanced base designed to move with you and a rubberized coating that is non-skid and designed to grip onto most surfaces.
SONGMICS Active Stool, Adjustable Height Standing Stool
Stay energized and productive all day long with the help of Songmics Active stool. Featuring two buttons on the side, the stool lets you adjust the height from 20.1″ to 25.6″ so that you can meet various needs. Also, the stool is easy to assemble, given that you can attach two short poles to form the central axis then insert the poles on the seat and base without the need for tools. The stool features a 16.1″ diameter large base to enhance stability. Furthermore, it features a bottom rubber ring designed to protect it from slipping on smooth surfaces. The seat can tilt and swivel up to 360° to guarantee maximum user comfort.
Learniture Adjustable-Height Active Learning Sool, Black, LNT-RIA3052BK-SO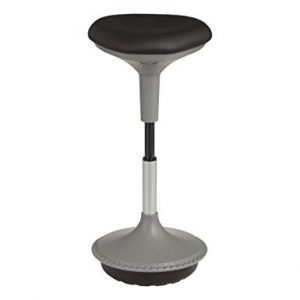 Lightweight in design, this is a perfect choice for a portable standing desk chair that is easy to store. Also, the chair is an excellent choice for a standing desk chair that is comfortable. The reason is the 12 5/8″ wide seat that features an easy-to-clean vinyl-covered foam. The backless design of the seat encourages better posture while strengthening core muscles. Also, there is an easy-to-use pneumatic gas lift that allows for the seat height adjustment ranging from 18.5″ to 28″. On the bottom, there is a non-slip curved base designed to offer a wide range of motion.
Ergo Impact Best Standing Desk Chair for Leaning and Posture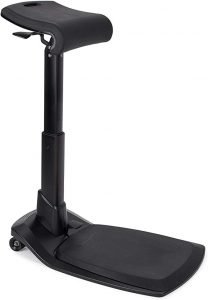 If you are looking for a standing desk chair that is easy to set up, this is one of the best models. It assembles in minutes without the requirement of tools or experience. Besides that, it features a stable design so that it doesn't tip or slide during use. The chair is UL tested to be compliant with BIFMA stability and durability standards which means that it is safe to use. Furthermore, the chair can move through multiple positions so that you can stay energized while using it. Because of the anti-fatigue mat, you can get the chair with an assurance of comfort and stability in the workplace.
Seville Classics Airlift 360 Sit-Stand Adjustable Ergonomic Active Balance Non-Slip Desk Stool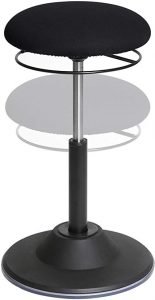 Designed to suit modern and contemporary designs, Seville Classics Desk Stool features a modern and contemporary design so that it can fit in offices, homes, dorms, and libraries. Besides that, it includes an airlift lever designed to offer quick and quiet gas pneumatic adjustments from 20″ to 28″ high. The seat leans up to 10° off-center while it rotates up to 360° so that you can tilt, spin, and wobble. You can get the chair for users up to 250lbs. Furthermore, the chair is a great choice when used on smooth surfaces because of the non-slip base. The chair doesn't need tools during assembly, which makes it a perfect choice for the best standing desk chair that is easy to assemble.
Safco Products Metro Extended Height Chair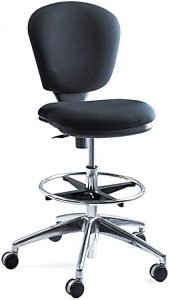 Stay focused for longer working periods with the help of Safco Products Metro Extended Height Chair. The chair features a form-fitting contoured back and a thickly cushioned seat to enhance all-day comfort. Furthermore, it includes a pneumatic lever. The lever is located under the seat and designed for easy height adjustments from 23″ to 33″. The seat can rotate up to 360degrees to enhance easy motion. Also, the dual-tone swivel wheels work perfectly on carpeted and smooth surfaces to increase mobility. Because of the heavy-duty 5-star base and the chrome finish on the base, you can get the chair while looking for a standing desk chair that is durable. Also, there is a waterfall seat edge and an adjustable foot ring that helps to improve circulation by reducing pressure points on the legs.
Uprite Ergo Active Stool Adjustable Height Chair for Desks & Workstations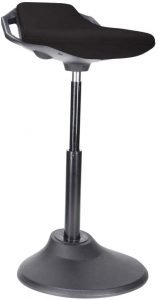 The Uprite Ergo Active Stool is a perfect choice for those in need of the best standing desk chair that lets you alternate between sitting and standing during the workday. The stool enables you to adjust the height from 22″ to 28″ with a simple touch of the button. Also, the chair rotates up to 360º to ensure adequate upper body motion and lumbar engagement. The stool can lean forward or backwards assuring you of remaining comfortable while maintaining an active and correct posture.
SONGMICS Standing Desk Chair
This is a sit-to-stand standing desk chair designed for users with a ≥5. 7′ height. The chair features a supportive axis that tilts with the seat to maintain a healthy posture. Also, it includes a button below the seat. Pressing the button lets, you adjust the height from 24.8″ to 34.6″ allowing you to use it for various demands. You can be sure to have an easy time assembling the chair given the ability to put the pole into the holes of the base and seat without the need for extra tools.