Bathrooms are one of the busiest rooms in our homes, but they can also be one of the most dangerous, especially for the elderly. In fact, a recent study revealed that over 50% of people aged 85 and above have experienced accidents in the bathroom.
Thankfully, walk-in tubs have become a popular solution for increased safety in the bathroom. With features like independence, therapy, and added comfort, walk-in tubs offer a number of benefits. As a result, an increasing number of brands have begun customizing their own versions of these tubs.
To help you make an informed decision, we've compiled a list of the top 10 best walk-in tubs available for most people. Choosing the right bathing equipment should not be a difficult task, and our list will help guide you towards some of the best walk-in tub options available. With a walk-in tub, you can enjoy a safer and more comfortable bathing experience, regardless of your age or mobility.
A List of Top 10 Best Walk in Tubs
Ariel Whirlpool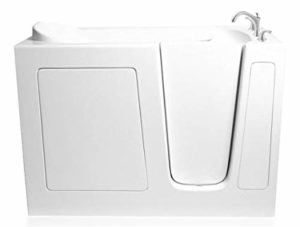 This tub is designed to allow the user to get in its right-hand side. It has a capacity of 83 gallons. It consists of a reinforced stainless, making it beautiful and sturdy. It also has a high-gloss, superior finish that makes it look smart. IFitted with an adjustable support frame, this walk-in tubs are safer than others. For instance, its reinforced door helps reduce the risks of buckling. It has its bottom textured to help in avoiding slipping.
It is fitted with a contoured, comfortable seat to provide comfort. Designed with large hydro jets for a back massage, this product is affordable. This is a unique feature that provides an effective way of relaxing one's muscles, easing pains and aches. Its cons are such as that the tub does not have a particular requirement. Its heating element has a power rating of two amps.
Ella's Bubbles Companion Massage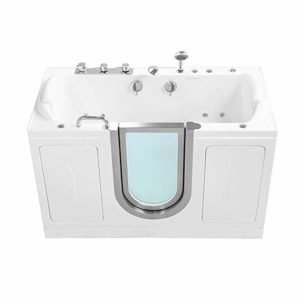 It has a transparent door that allows one to see through, making it look more like a modern hot tub. The finishing of its modern and stylish appearance is the hand-held shower-head, even air jets, air buttons, water, and faucets with a chrome finish.
Some of the pros are such as it has a low threshold. Easy to use, it has a slip-resistant floor. Its air therapy system has different options. These include the ozone sterilization, in-line water, and different airspeed. About its cons is that it is expensive, and its hose does not come with a shower attachment.
Gloss finish: easy to clean
Low step-in threshold, deck mount grab bar and slip resistant floor
Two of 2″ drains with overflows
2 independently operated drain openers with easy grip extended handles
15 Air therapy system has a 3-speed air flow push control system and auto-purge
Empava Acrylic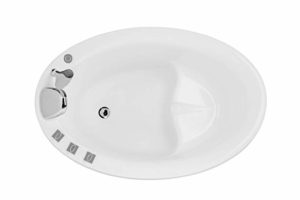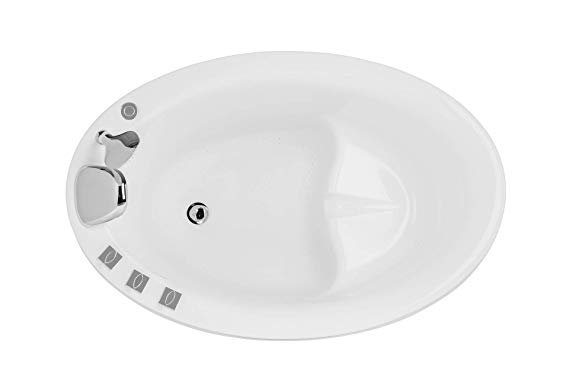 This product comes in a traditionally styled form with a glossy acrylic finish and paneled side. It has a cushioned headrest and stainless steel-made fittings. One of the advantages of Empava is that it comes with an integrated seat that offers the best platform. It comes with a pre-installed full package of the showerhead, an overflow, faucets, and knobs, making it unnecessary to drill. About its cons is that it does not have hydrotherapy /air jets sessions.
100% glossy white acrylic and a contemporary stand-alone design
Ergonomic control knobs
Surrounding handrail built in to the rim of the bath
Textured, slip-resistant tub floor for added safety
Extra-wide door is at least 20% wider than other walk-in baths
Pre-drilled and pre-installed for a convenient and easy installation process
Made in U. S. A.
Ella's Bubbles Walk-In Tub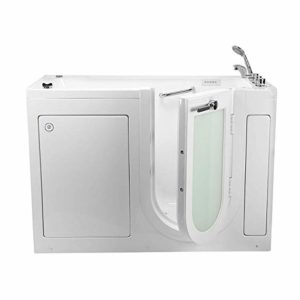 This tub has a mono-colored seat, and the headrest has a white cushioned finish that matches its acrylic finish. Made of tempered glass and stainless steel, the door looks modern. Its advantages are such as an air system that offers about three types of air settings. It is excellent in providing a massaging effect to the feet, hips and back.
Low step-in threshold, stainless-steel grab bar, slip resistant floor
Gloss finish easy to clean white acrylic shell reinforced with fiberglass gelcoat
Scratch resistant acrylic shell has a non-porous surface impermeable to mold
Rust proof stainless steel frame supported with adjustable leveling legs for easier installation
9 Hydro jet massage system with in-line water heater, ozone sterilization, intensity dial control
ANZZI Whirlpool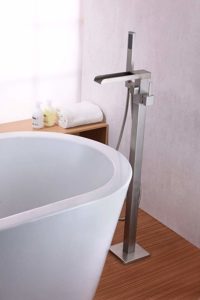 This bath has about 30 air jets with 12 being adjustable whirlpool jets, and 18 are air jets. The advantage of this is that the heater pushes warm water, thereby offering a soothing, nice hydrotherapy massage. These air jets are essential in producing bubbles to hydrate and exfoliate your skin.
It also has the capability of providing an incredibly relaxing mood where you can adjust the attitude to get a relaxing spa experience. It has the disadvantage of being a large bathtub meaning that it consumes power when heating water.
American Standard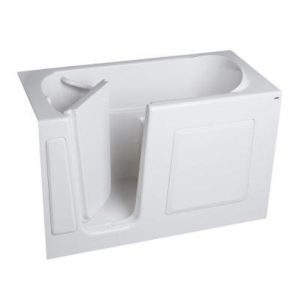 These bathtubs have an exterior height and low-threshold entry points. It is deep enough, thereby allowing the user to relax his/her shoulders on the seat. Some of its pros include having a designed faucet that has a high flow rate. It also has an efficient quick-drain technology that makes it easy to drain the water. It has a textured base to prevent slipping. Designed with a hand-held shower, it's more expensive than others.
Spa World Venzi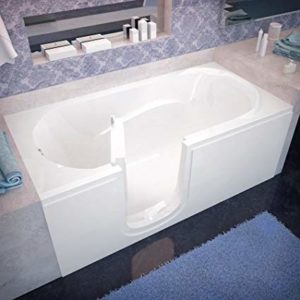 This model is fitted with a clean, unique design and a left-hand side door. It has an amazing gloss and acrylic making. Some of its pros include a completely flat bath panel that makes it easy to clean. The threshold is low meaning that the user has to bend his/her knees while entering the tub. This bathtub has no jets making it simple all through. In addition to this, it's one of the best options for people with restricted mobility.
Ella's Bubbles Font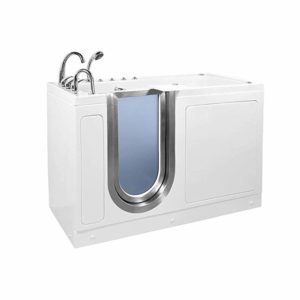 It is wide enough to allow the user to bath comfortably. Its adequate space makes it easy for one to turn him/herself while taking a bath. It has a plastic frame other than stainless steel. Its central section consists of tempered glass. Some of its advantages are such as an acrylic shell coating in the fiberglass gel that is mold and scratch-resistant. The simple design makes it easy to maintain and clean.
Ella's Bubbles Malibu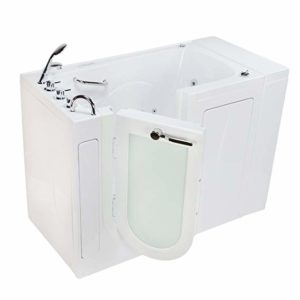 Designed with plastic and tempered glass, it comes with a non-slip floor and a pair of stainless steel grab rails for safety. Its pros are such as two operated drains can empty the tub without wasting time. It comes with two types of faucets as well as a thermostatic control valve for regulating the water pressure.
Meditub
Therapeutic

Walk-in Bathtub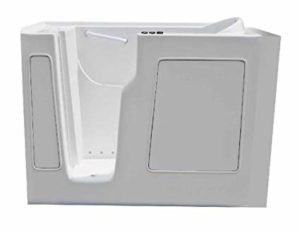 It has a contoured seat to offer comfort and a handheld shower that makes it easy to wash. Some of the pros include safety features such as a low-threshold a textured base and built-in grab rail. Furthermore, it comes with has a pre-installed heat pump. This means that one does not need to worry about the spurting out of the cold water. Its door seal shell has a lifetime warranty. All the other parts have a warranty of one year. Its cons are such that one must be ready to pay the labour costs while installing this tub.