The Best Lightweight Sleeping Bags
Investing in a good quality sleeping bag can make all the difference in ensuring a comfortable night's sleep during your outdoor adventures. Not only can it save weight and space, but it can also provide the warmth, comfort, and safety you need to get a good night's rest.
When choosing a sleeping bag for cold weather backpacking, it's essential to consider factors such as insulation, size, and weight. A waterproof and soft sleeping bag with a compression sack can also be incredibly useful, keeping you warm and dry while also making it easy to pack and carry your sleeping bag.
Overall, being comfortable while camping is crucial for enjoying your time in the great outdoors. Investing in a high-quality sleeping bag that meets your specific needs can help ensure that you get the rest you need to tackle your outdoor adventures with energy and enthusiasm. So, whether you're planning a backpacking trip or a camping excursion, don't overlook the importance of a good quality sleeping bag!
Best Camping Cookware for Family
A List of Top 10 Best Sleeping Bags for Backpacking
Sierra Designs Zissou Plus
One of the most favorites among hikers and travelers, this dual zip and trapezoidal shaped quilt provides bed-like comfort in warm weather. The Sierra Designs Zissou Plus will give you a plenty of room left in the regular size.
Comfortable
Small and light
NEMO Salsa Sleeping Bag
Made from 30D Nylon Micro Taffeta, this spoon shape is wider at the knees and elbows for side sleeping. Fabric is comfortable and durable. Features like the stretch stitching, FlowGates, and high quality fabrics are all you need in a sleeping bag.
Smart design
Most comfortable
Warm and light
Kelty Cosmic 20 Degree DriDown Sleeping Bag
The insulation is 100% water-resistant 600 fill power DriDown. This Kelty Cosmic is the best sleeping bag for extreme cold weather. Overall, it's the best sleeping bag for beginners!
Lightweight and compressible
Quilt through construction
Thermal-comfort hood
Ideal for beginning or budget-conscious backpackers
Teton Sports TrailHead Ultralight Mummy Sleeping Bag
An affordable sleeping bag that is compact, warm, and lightweight. Th Teton sleeping bag is breathable, soft, double-brushed liner, making it very comfortable for your night's sleep. It's ideal for backpacking trips during most camping seasons.
2.9 pounds (1.4 kg)
Water resistant and won't tear easily
Marmot Phase 20
A mummy style sleeping bag designed for women, the Marmot Phase 20 Sleeping Bag helps you sleep comfortably in cold temperatures. It provides excellent protection without trying to smother me.
Coleman Sunridge 40-60 Degree Sleeping Bag
One of the cheapest camping bags for warm weather. It's actually quite comfy. The Coleman Sundrige comes with a little plastic piece over the zipper to keep the cold wind out.
100% Polyester
5 feet 11 inches tall
Durable
Good zipper, unlike others
Abco Tech Sleeping Bag
The Abco Tech sleeping bag is best for traveling, camping, hiking, or outdoor activities. This sleeping bag is extremely warm. The material is not too heavy for most travelers and hikers.
Lightweight and portable
Waterproof and comfort
Easy to clean and carry
Sleepingo Double Sleeping Bag for Backpacking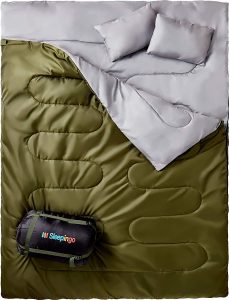 Planning a camping trip to Olympic National Park? Then you should get this double wide sleeping bag. You'll enjoy the benefit of cuddle body heat. No cold nights.
Sturdy and comfortable
Made of waterproof and camping grade polyester fabric
SONGMICS Sleeping Bag with Hood for 20℉-50℉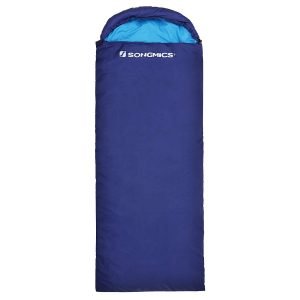 The Songmics sleeping bag is warm, but not too thick. It's small and light after packing it. This sleeping bag from Songmics is the best for most kids.
Made of durable nylon with a moisture-proof coating, fluffy silk wadding filler, and skin-friendly polyester pongee liner
Portable, washable
Warm and comfort
Skin-friendly polyester pongee liner
KingCamp Ultralighted Camping Tent Cot Bed
When you are arranging a camping or chasing trip, you ought to abstain from conveying a great deal of stuff.
This cot wager from KingCamp is intended to enable you to evade pointless gear that may impede you. This is a great folding bed possesses a little storage room.
Suits overwhelming and taller people
Easy to use
Usable in any condition
Top Best Sleeping Bag for Kids: TETON Sports Celsius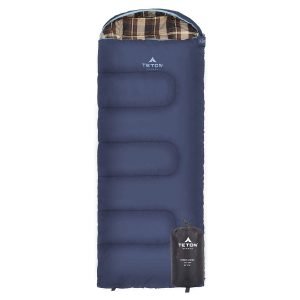 This is another Teton Sports best for kids who need a sleeping bag for great for camp outs and sleepovers. A great value with nice features for the price! Light weight, pack-able, and durable.
Comfort rated 20-30 degrees higher
Durable, easy to pack
Adjustable drawstring half-circle hood
Backpacking with compression sack
Full-length zipper draft tube
Convenient pocket in the lining to store snacks and flashlights
Sturdy no-snag two-way zippers with metal pulls
Single-layer construction means the bag doesn't shift