The Best Wooden Platform Beds
If you're in the market for a new bed and have your heart set on a quality wood platform bed, you're in luck – there are plenty of options available! But with so many choices, it can be challenging to know which one to choose for your specific needs.
To ensure you're making the best choice, look for a wooden platform bed that includes all necessary parts, such as slats and frames, to securely hold your mattress. Some models also come with extra legs for added stability.
To make your search a bit easier, we've compiled a list of the top wood platform beds currently available. These beds not only offer a comfortable sleeping experience but also have user-friendly assembly instructions. While some models come with headboard holes, others don't – so keep that in mind as you make your decision.
A List of Top 5 Best Wooden Platform Beds
Zinus Alexia 12-Inch Deluxe Woof Platform Bed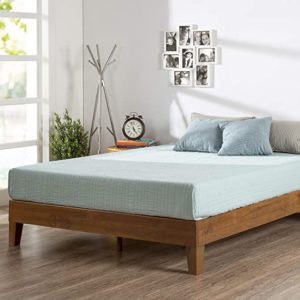 The Zinus Alexia wooden bed platform is perfect for a couple since it is large to accommodate two adults. Not only is this bed's frame designed in a large size, but it also comes as a full package. This means that you can use it without a box spring. Thus, you need to buy a quality mattress, and you will be good to go. The frames weigh 66 pounds. It is comfortable to hold when assembling the bed, and it can hold a weight of up to 500 pounds.
Again, this bed frame has quality and robust pine wood materials build for durability. The bed's legs have padded foam tapes to secure the bed from slipping while reducing noises.
Pros
This wood platform bed is quite strong and durable
The platform is light for convenient when assembling
The package comes with all the assembling tools
It is large to accommodate queen size mattress
Comes with two extra support legs for stability
Cons
This platform bed emits some chemical smell that may last for more than a week
Zinus Vivek 12 Inch Deluxe Wood Platform Bed with Headboard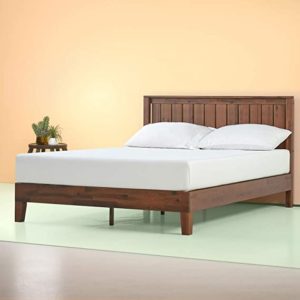 First of all, it is crucial to note that this wood platform bed comes with a headboard for excellent head support. Secondly, the bed comes with other accessories such as the slat support. Thus, all you need to buy is a mattress and box spring. The foundation has a beautiful finish that adds a tremendous and unique espresso look in your bedroom. Assembling this platform bed has been made easy as the package comes with all the assembling tools to use when joining.
The wood slats are quite strong and broad to provide optimal support to the mattress and prolong its durability. Although the frame has steel material, there are extra foam padding tapes that secure them firmly. What's else? It can maintain the structure's movements.
Pros
This wood platform bed comes with a 5-year warranty
Assembling it is easy
The bed is durable
The package has three additional support legs for middle
Comes with headboard
Cons
Some customers have reported about receiving shorter middle legs that do not reach the ground
KD Frames Fold Platform Bed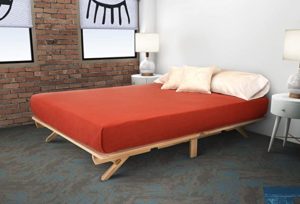 Do you need a temporary bed for your guests to use when they visit your home? KD frames bed platform is the right choice. The platform bed has a unique unfinished design that looks great in the room. This bed is foldable, so you can comfortably store it away when not in use. With a dimension of 52 x 80W x 74 D x 10 h inches, this platform bed is convenient to fit two people. Also, the bed has quality wood material constructions backed up by a 5-year warranty.
Pros
This bed folds easy to store
It has a unique unfinished style
The bed has slats
The bed has round corners that shape the mattress
Cons
From the measurements, this bed is short and may not work for adults, exceptionally tall people
Zinus Olivia Metal and Wood Platform Bed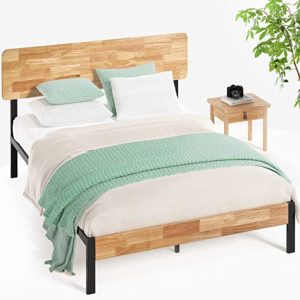 This bed features a design of both wood and metal materials that gives it a rustic and classic look. The bed measures 80 x 60 x 14 inches plus wood slates essential for supporting the mattress. The package consists of the headboard, wood slats, and steel frame structure. Although this bed has steel material build, it also has padding on the edges to prevent noises when used by heavy people. This also ensures the bed stays in place where you set it up.
Pros
The bed comes with a 5-year warranty
The assembling process is relatively smooth
The bed has a unique rustic finish
This bed is super durable
Cons
Although this bed has padded foams to reduce noises; it may not work for people who need a bed that is completely noise-free. This is because it still produces some noises.
K D Frames Nomad 2 Platform Bed
If you need a chemical-free bed for your little ones, this is the right choice since the bed has natural wood materials with no chemical additives. You can use the bed platform with either foam or latex mattress, specifically the plus sizes, since the slates have larger gaping. Note that the bed comes unfinished, so you can use it in natural color or use your preferred color paint. The design and materials of this bed are exceptional and have a quality design.
Pros
The bed comes with a long term warranty
Does not require box spring when sleeping
The bed has no chemical finishing
Cons
The slats have extensive gaping and thus, only require large and thick mattresses to fit well.