If you frequently work on drywall or plaster installations, a cordless screw gun is an essential tool to have in your arsenal. With a cordless screwdriver, you can complete your installation projects quickly and accurately, without needing professional assistance. The best cordless screw guns provide the power needed to drive through dense materials, making them an excellent choice for light to medium jobs.
Using a cordless screw gun can significantly increase your work rate without sacrificing accuracy. These power tools also offer convenience since you don't have to deal with cords while working, giving you more freedom to move around. Therefore, investing in a high-quality cordless screw gun is a wise decision that can improve your efficiency at work.
Consider purchasing one of the reviewed screw guns in this post or do your research to find the best cordless screw gun that meets your needs. Whether you're a professional contractor or a DIY enthusiast, a cordless screw gun is an essential tool that can make your work easier and more efficient.
[ The Best Cordless Heat Guns ]
[ The Best Cordless Leaf Vacuum Mulchers ]
A List of Top 5 Best Cordless Screw Guns
CACOOP 4V Cordless Battery Powered Screwdriver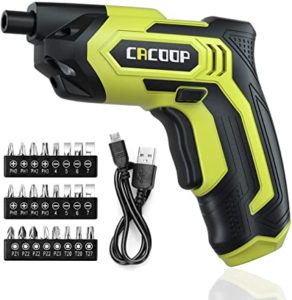 Perform a range of home improvement projects or DIY jobs with the help of CACOOP 4V Cordless Screwdriver. It is compact and lightweight and equipped with a small handle. As a result, it can fit comfortably in the hand to enhance your comfort. What's more, the top of the screen gun is compactly designed, enabling it to drive screws into tight spaces.
The screw gun has a toggle button for easy control of the forward and reverse function. Also, it has a flex shaft that allows for full-range tightening operations. The cordless screw gun derives its power from a built-in 1500mAh battery that allows you to tighten 200 screws after a full charge.
Pros
A ¼" hex chuck features a magnetic tip to hold bits firmly.
A built-in LED work light illuminates dark working spaces.
The screw gun comes with a zipper case to store the gun after use.
Cons
The speed is not controllable.
Hi-Spec 26 Piece 4.8V Electric Power Cordless Screwdriver with Rechargeable Battery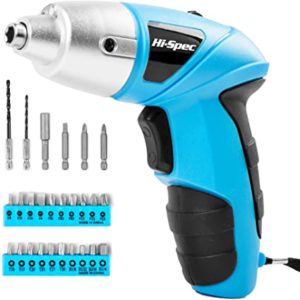 The Hi-Spec is a powerful screwdriver. It derives its power from a 600mAh NiCd battery that takes 3-5 hours for a full charge. The screw gun has a rear button that allows you to press it to view the battery level. What's more, it is compact and lightweight for easy handling.
The screw gun has a comfy grip handle that makes it easy to operate. The large single-speed trigger control is another plus. It features forward and reverse directions for fastening and loosening. Also, a front-facing LED light is included for the illumination of dark working spaces.
Pros
An included handle strap facilitates portability.
On/off switch for easy operation of the LED light.
A magnet built into the chuck facilitates easy handling of the supplied accessory bits.
Cons
It doesn't provide enough power to drive screws through hardwood.
Pink Power PP481 3.6 Volt Cordless Electric Screwdriver Rechargeable Screw Gun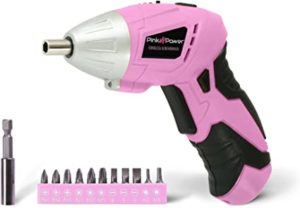 Whether you need the best cordless screw gun to fix loose screws, put furniture together, or hang pictures, the Pink Power PP481 Rechargeable Screw Gun is an ideal option. It comes with a kit that includes a charger, a drill bit adapter, and an 11-piece bit set. The screwdriver is easy to handle, thanks to the lightweight body with a soft-grip handle.
Also, the soft-grip handle features a pivoting design for easy control in tight spaces. Suitable for use in low-light conditions, the screw gun features a built-in LED light to illuminate the space. Also, it includes a ¼" chuck that accepts standard-size bits to help you handle a variety of projects.
Pros
The screw gun features a powerful 200RPM motor.
A battery gauge displays the remaining power level.
A soft-grip handle ensures user comfort.
Cons
The screw gun doesn't light up to indicate when it is charging.
HYCHIKA 3.6V 2.0Ah Electric Screwdriver Rechargeable Screw Gun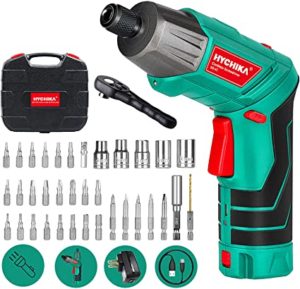 An excellent choice for a cordless screw gun that will let you hang pictures, fix furniture, or cabinets is Hychika Rechargeable Screw Gun. The screw gun delivers a maximum torque of up to 6.0Nm for effortless operation. It includes a 6.35mm quick-change self-locking chuck for easy replacement of the bits.
The screw gun includes 36 pieces of accessories suitable for loosening and fastening all furniture screws. Also, it comes with a USB charger to let you plug it into charging ports in a car charger or laptop. A front LED light is included to illuminate working surfaces while screwing or drilling. Still, there is an LED light at the base that acts as a flashlight.
Pros
A push "lock" button allows you to change the shape of the screwdriver.
A rubberized handle provides a comfortable grip.
The screw gun is compact and lightweight for easy handling.
Cons
The speed isn't adjustable.
TACKLIFE SDP51DC 3.6V MAX 2.0Ah Li-ion Cordless Screwdriver Rechargeable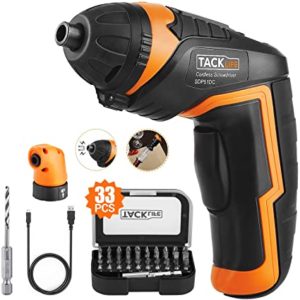 The Tacklife SDP51DC is one of the best choices for use in hard-to-reach places. The screw gun features a unique right-angle adapter that comes in handy when working in tight spots. Also, it features a compact and solid design for portability and easy storage. Equipped with an ergonomic and rubberized handle, the screw gun facilitates comfort to the user for a long working time.
Another benefit of the screw gun is the on/off switch. This switch facilitates easy screw driving and screw removal. Also, there is a ¼" magnetic chuck. With it, the screwdriver allows for accurate replacement of the bits while protecting the bits from falling. You can use the Tacklife screw gun in low-light working environments, thanks to the adjustable front light.
Pros
The screw gun houses a powerful 200RPM motor.
The 2.0Ah lithium-ion battery is easy to recharge with a micro USB.
A 3-level power indicator displays the battery charge.
Cons
The screw gun doesn't come with a storage case.