Best Personal Alarm Keychains
What's your reaction when you feel unsafe or in danger? It's natural to feel apprehensive in everyday situations, but unexpected emergencies can arise at any time. That's where personal safety alarms come in. These devices have become a necessity for anyone looking to protect themselves in case of danger. The good news is, there is a wide range of personal safety alarms available to choose from, so you can find one that suits your needs and budget.
With a personal safety alarm, you can feel confident that you have a tool to help protect yourself in the event of an emergency. Whether you're out for a jog, walking to your car at night, or simply feeling uneasy in a new environment, a personal alarm can help provide you with an added layer of security. So don't wait until it's too late – invest in a personal safety alarm today and take control of your safety.
Best Mobility Scooters for Outdoor
A List Top 10 Best Personal Alarm Keychains for Safety
Vigilant 130 dB Personal Protection Alarm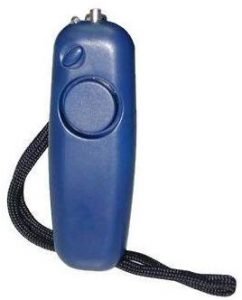 Among the most fascinating features of this alarm is the 130dB alarm and an LED light powered by 2 AAA batteries. The alarm is simply activated by pulling the pin and will draw attention to you if you're in danger. Interestingly, the alarm is equipped with a whistle which acts as a backup. Designed with a keyring for a backpack and purse, it makes it ideal for traveling. Vigilant alarms are largely accepted for their affordable and reliable safety.
Meemoo Personal Alarm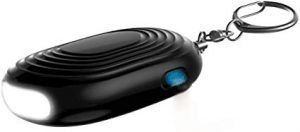 If you're looking for a simple and effective personal safety device, Meemoo alarm is your solution. Its 130dB siren produces a loud sound that can distract any attacker. Designed like a keychain, the gadget is fitted with an LED and is powered by LR44 batteries. The simplicity of the device makes it ideal for raising alarm or even scaring away predators.
Taiker Personal Alarm for Women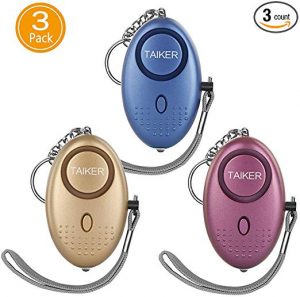 Are you looking for a safety alarm that scares away predators or distracts attackers? Taiker alarm is your choice. Its stylish keychain makes it ideal for women. The device features a 140dB alarm that can draw attention to a distance of up to 606.9ft. Another breathtaking feature of this alarm is the LED. These features make this device suitable for camping, hiking, and other outdoor activities.
BASU e-Alarm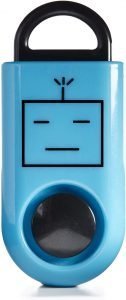 When it comes to personal safety, BASU alarms are worth considering. Its compactness and size make it portable and completely safe for children. The alarm is capable of producing up to 130dB. However, some portions of the tone can fluctuate. To activate the alarm, just pull the pin – pretty simple! BASU e-alarms can operate in temperatures ranging from -100 C to 400 C.
Katana Safety Arc
Another outstanding system worth considering is Katana Safety Arc. The slim, sleek design of this device allows it to perfectly fit at the back of your smartphone. So, it's always with you. Katana Safety Arc features 3 layers of defense:
The first layer of defense is the alarm system that is triggered by the flick of a finger or a concealed waistband.
The second alarm is activated by a silent alert button in situations where a loud sound is not appropriate.
The third alarm sends the location of the victim to a list of predetermined contacts.
Lermende Emergency Personal Alarm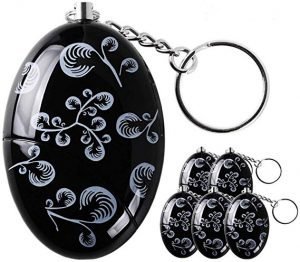 Introducing multi-functional personal safety equipment. The stylish design of Lermende makes it fashionable while providing personal safety. This allows you to remain discreet since the keychain blends with your outfit. The alarm's sound is great, thanks to 120dB siren. Its small size makes it portable and suitable for any user.
DaCool Personal Alarm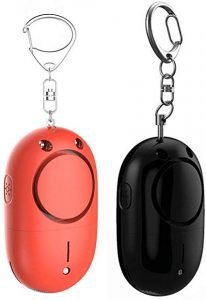 Another fantastic personal safety alarm to consider is DaCool Personal Alarm. The device can produce loud sound up to 120dB. Upon purchase, you get 2 gadgets in one package (black and orange). In addition to this, it comes with a heavy-duty battery to power LED. The versatile alarm is perfect for the elderly, kids, and night workers.
HUMUTU Safesound Personal Security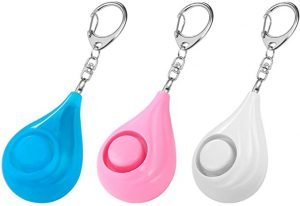 HUMUTU personal alarms are revolutionary in the market. Besides its 130dB sound, these alarms come with thicker copper generators compared to other brands. Once activated, the ear-piercing alarm can draw attention up to a radius of 300 yards and can last up to 40 minutes. The tear-drop design of these personal alarms makes them fashionable. Their simplicity makes them suitable for all users.
TOODOO 130dB Safesound Emergency Alarm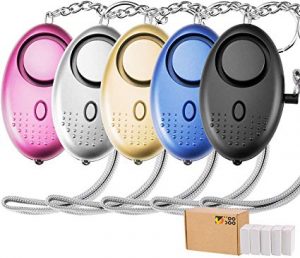 Looking for a small and convenient personal alarm? Well, Toodoo alarms feature impeccable 130dB sound and are suitable for use anywhere. You can activate it by pulling the ring. The gadget comes with LED illumination, which is useful for night walks and outdoor adventures. What's more, the emergency alarm has a range of 606.9ft.
Personal Safety Alarm for Women – Ahh!-larm!.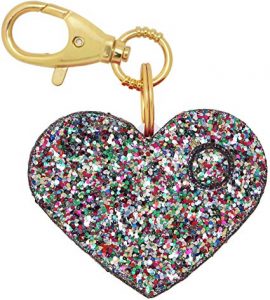 A matching and stylish accessory is every woman's favorite. Ahh!-larm! are designed for women who are mindful of their accessories in order to compliment any purse, shoes, or even nails. As usual, the alarm is activated by a tension button triggering a 115dB siren. The device also features a 12-volt battery that can be replaced with ease. With its fast-growing recognition, the alarm is gaining acceptance in the market.